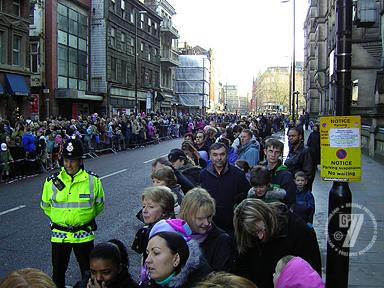 I went along to the Chinese New Year celebrations. I only wanted to see the parade of Chinese dragons from Albert Square to China Town. It was busy, very cold and everything was running 35 minutes late.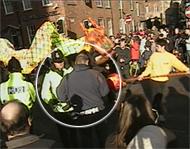 I found a good spot on a large paved island in the middle of the road. But after ten minutes the Police decided they didn't want anyone to stand there, so I ended up at the back of the crowd.

Although some of the Police were being friendly enough with the shivering crowd, others really were being a pain in the arse. I captured an instance later on video where one cop moved in front of a photographer to spoil his shot and then told him to move, almost pushing him out of the way.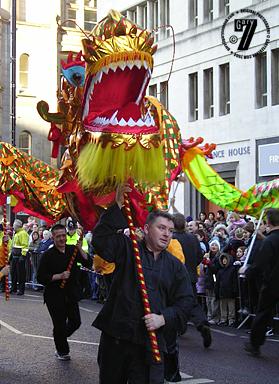 All for no good reason that I could see, as the photographer was at the side of the road, albeit in front of the 'security' tape, and the road is wide. This wasn't some rowdy political demonstration... Photographers are only trying to get shots that celebrate the event and preserve a record of it and they should be allowed to do that as much as possible, without being harrassed.

If you're a professional photographer, or using a professional-looking 35mm camera, you can generally get away with standing on the road. But there was no chance for me today, as I was testing out the little Minolta E323 digital camera! That definitely made me think about how I'll photograph similar events in future.

I also realised that, although the reviews of this camera say it has a 'pro' response time, that still doesn't make it suitable for fast moving action (such as a Chinese dragon). Out of 26 shots of the dragon, about three are usable. Whereas, with a film camera, I reckon I would have got up to 20 usable shots.

I missed the moment in all of them and, in the end, I was pretty much reduced to pressing the button and hoping for the best -- which isn't good enough. The digital camera is good for portraits, views and other general stuff. Though I must say that often, even in a general street scene, I am looking out for the best position of vehicles and people, so timing is all-important. We'll have to see how it goes...

I guess this all gives anyone who still shoots film at this type of event a huge advantage, as there will be few good digital 'action' shots around!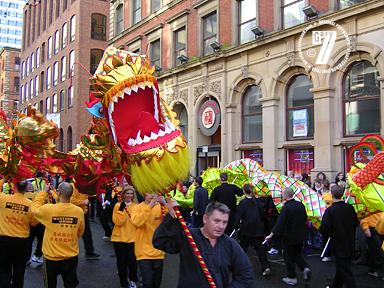 Curiously, there seemed to be few if any Chinese people operating the two dragons. It struck me that it was a bit like there being no gay men or women in the Mardi Gras parade!

I don't have time to put up the video clip right now. But it will appear sometime soon. Probably linked on my Manchester page.

I was glad to get away from China Town, which was uncomfortably busy. I walked around the city centre taking a lot of shots. I got some great pics of the Gay Village. Trust me, if you run a gay website in Manchester, you can NEVER have too many shots of Canal Street and freedom flags! This is a good time of year: sunlight from a low angle lights up the buildings nicely and the trees are bare, so they don't hide as much as they do in Spring and Summer.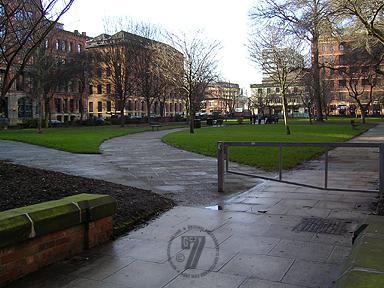 However, in Sackville Park, I noticed that one cherry tree had blossom on it. In January! And, incredibly, there are still people who maintain that climate change isn't happening. Read more at the BBC Weather Centre.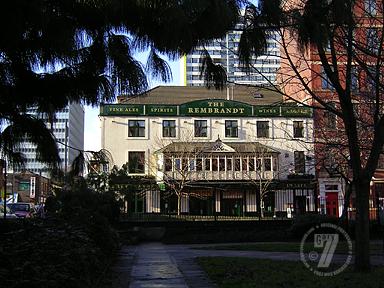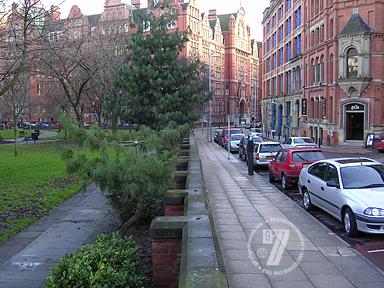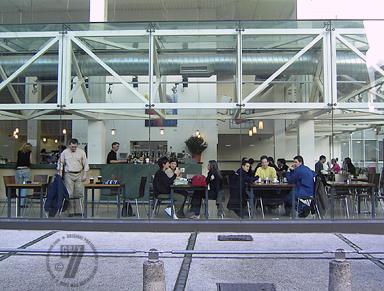 I took some shots of this glass-fronted cafe on Oxford Road. A couple of people didn't look too happy about being photographed. That seemed curious as they were sitting in such a 'goldfish bowl' on one of the busiest roads in the city centre! However the man in the yellow shirt began laughing. I'm not sure if he was laughing with me or at me. I hope it was the first and, like me, he saw the funny side of the situation :-)

GET IN TOUCH


My contact information is here.