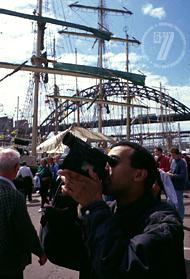 I've been thinking that hosting costs are now so low than providing lots of video on a site is viable, I think. Yet still we don't see much video out there, other than on adult sites. Why not?

The problem is, whereas a professional-looking photo can be snapped for a site in a second and can be resized and added to a page in a couple of minutes, making a one or two minute-long video is a whole different matter.

The easiest thing is to record something continuously for a minute or two. Even so, there are titles to add and the clip has to be encoded. That can mean making up to five different files: for RealMedia and Windows Media streaming at either 56k dial-up or 256k broadband, plus a downloadable MPEG file. Doing that and adding them all to the page, takes ages.

A continuous 'take' can be kind of dull and people are going to lose interest with anything that is too far below basic professional standards. So, maybe we need lots of different shots to tell the story?

Getting the shots to do that can be time consuming and then we have to get into editing -- cutting the shots together. I just counted the number of different shots and changes of scene in one minute of a BBC news report about some African women who were running a recycling scheme. There were sixteen different shots and that included someone being interviewed...

I spent a whole day editing and encoding my video of the Europride opening parade and it lasts one minute twenty-five seconds! Frankly I still feel it needed more time ;-)

Then there is the sound. Do we need to record and add a 'voice-over' (what a lot of different skills you need, huh)?

If we film and there is music in the background, there are copyright issues. And so it continues.

Making four or five two-minute videos each week could very easily become a full-time job. I would love to take the site in that direction but I'm just wondering if it's do-able?

GET IN TOUCH


My contact information is here.