I took the Minolta E323 camera back to the shop. The manager had put aside a replacement for me. Unfortunately, I found that the pictures were quite a bit 'softer' on the replacement. So I returned and asked for my old camera back.

I'm disappointed, but I've resigned myself to putting up with the green smear which shows up occasionally on areas of plain colour. At least I can zap that quite easily in Photoshop. Whereas a soft lens would ruin every shot. It might seem like I'm being fussy. But I don't think so.

It's more an illustration of how poor the quality control is at Minolta... This is a great little camera in terms of facilities, but I can't believe how much the lenses vary from one unit to another (this was my third E323).

I was quite relieved to get the second camera back and walked around Manchester snapping a few shots with it... Like this one of the Central Library.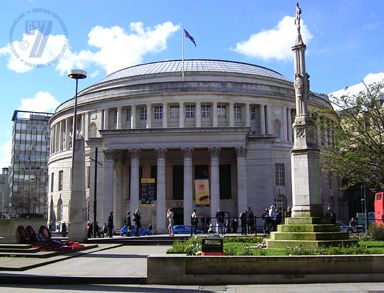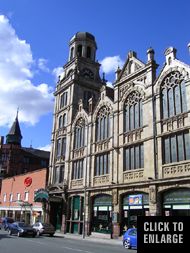 It seems to me that Manchester is losing some of its character in the construction frenzy that is happening at the moment. I like many modern buildings, but I don't like the way ugly thoughtless developments are allowed next to historic buildings. Take this unsympathetic brick second storey that has been stuck on top of what was once a car showroom (now it's yet another bar).
I walked past Granada Studios. Lots of building work happening around there too. It's reported that the company is looking to sell its multi-storey office building. It wouldn't surprise me if Granada eventually moves everything, including Coronation Street, down to London and sells its entire Manchester site for building. They seem to have no committment to the North-West anymore...
I don't see how the consolidation of all the small Independent local television companies into one big ITV company is in any way in the interest of viewers. I'm sure there's local advertising that could support more local television. But no doubt the Government much prefers to have just one or two big media companies around and if they are turning out unchallenging pap, that is preferable to documentaries that might ask awkward questions...
Also sad to see that the motorcycle shops on the corner of Liverpool Road and Deansgate are being demolished. Twenty years ago I used to bring my scooter here to be serviced.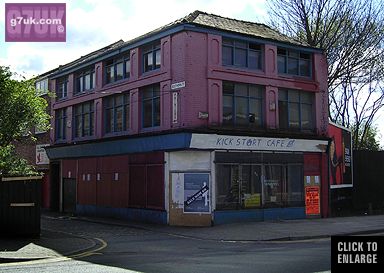 This old Victorian shop is full of character and would look terrific if it was renovated. But, by the time you read this it will probably be a big pile of rubble. Why keep an old three storey building when you can stick up a huge apartment or office block in its place and make a whole lot more money? A large number of Victorian buildings have been demolished across the city centre in the last few years.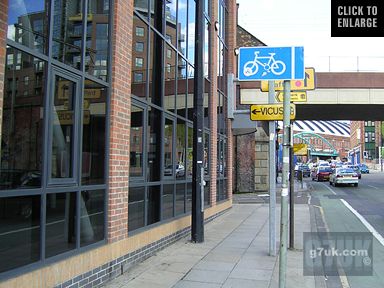 I've been meaning to take a pic from this angle for a while. Spot the difference!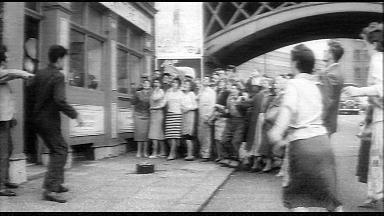 This is the same location in the 1960 film Hell Is A City. Almost everything in this shot has changed, except for the old railway station in the far distance, which is now the G-MEX exhibition centre.
Surprisingly few movies have been made in Manchester over the years. Mainly in the 1960's when 'kitchen-sink' dramas first became popular.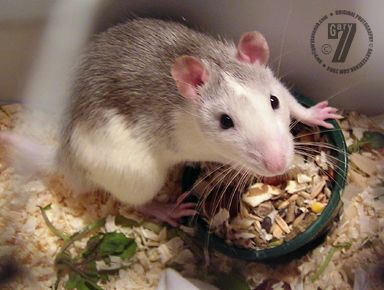 I have two new room-mates! I bought a (brown and white) pet rat a couple of days ago and today I got him a little friend -- this handsome silver-white male. Both of them are timid right now. I have to get their confidence. No names as yet. I once met someone who had a rat called Bogart. I always thought that was a cool name for a rat...