I decided it was time to get myself into the 21st Century and buy a DVD writer. I've been making DVD-quality videos and putting them onto CDs for some time (26 minutes of video on a CD or up to 50 minutes at still reasonable quality if I compress it more). But now it makes sense to use DVD discs instead.

The price of blank DVDs has fallen dramatically in the last couple of months. Now they cost around 50p each if you buy a spindle of fifty from SpotOn or MicroDirect. Easier for backing up data too. Though I'm still cautious about their reliability for long-term storage, as they haven't been around for long.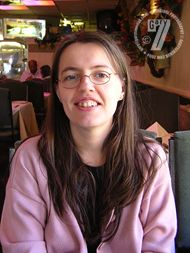 At the end of last year I bought a Lite-On CD rewriter to replace the crummy 48x Artec that came with my new system in February 2003 (I've never had so many coasters as I did with that Artec). The Lite-On drive is great. So when I saw an 8x Lite-On DVD rewriter, I knew that was what I wanted. The price was good too: about £70 from MicroDirect.
So this morning I headed off there with Miss Noodle. Then we went down to Rusholme for lunch. Rusholme is like a building site at the moment, as they are replacing the pavements.
We could barely get into the restaurant, as there was sand and rubble in front of it. It felt a bit like going for lunch in Iraq. I took this shot through the restaurant window -- the contractors lorry with the distinctive Rusholme rooftops behind...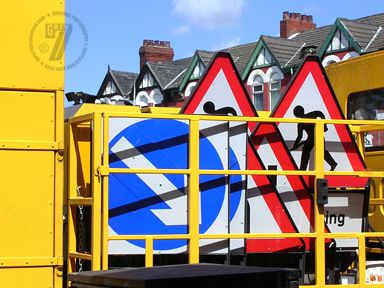 This is the place where Miss Noodle found the cocktail cherries in her chicken dhansak almost a year ago and we hadn't been back since.
We thought we'd give it another try. But I think this will definitely be our last-ever visit, as the food is still not up to the standard it once was... A shame, because the staff are nice.