Last night I decided I was tired of the noise from my PC, with its two fans (CPU and case) and two hard drives... I bought a replacment CPU fan a while ago, which I hoped would be more quiet, but I was unable to remove the old fan from the CPU.

Funny how this situation has sneaked up on us over the years. My first computer (an Amstrad PCW9512 in 1987) was completely silent, as it had neither fan nor hard-drive.

Suddenly I thought of a solution and, this morning, I made a hole in the wall, put the PC tower in the living room and fed all the cables through into the office (bedroom).

True, it means I have to go into the other room to put a CD or DVD into the drive. But I can live with that. It is so good to work in a completely quiet room.

Now I can watch TV without turning off the PC. I can record sound and mix video soundtracks more effectively and listen to music from the PC without the constant background noise. I can leave the PC on all night, encoding MPEGs... I think I'll be more productive and less stressed too. Not that I'm usually stressed or anything (yawn) :-) But I do think the constant low-level noise has a negative effect.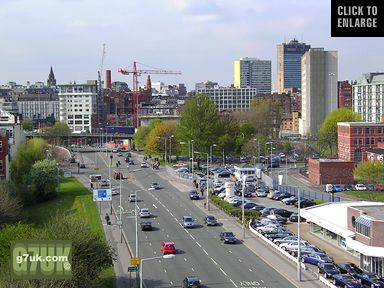 I went to the computer shop and bought a couple of five metre PS/2 extension cables as, going through the wall, the existing mouse cable was about six inches too short. On the way to the shop I snapped this picture from the top of a multi-storey car-park.
Soon after, as I walked past the Manchester Royal Infirmary, five Police vans screeched to a halt. Later, the BBC News website reported that 'a row had broken out between two groups of visitors' and 'bystanders reported being threatened with firearms during the incident'. Another typical day in 'Gunchester'. The hospital is a just a couple of hundred yards from the block of shops where the Police arrested six people in an anti-terror raid earlier in the week. The building there was still cordoned off today, with Police outside, as I walked past.
My second delivery of filter coffee by courier arrived today. Yummy.