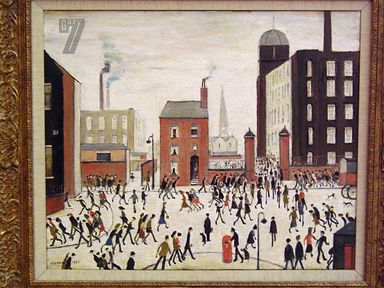 My retired friend Peter visited Manchester today, as currently he's staying in West Yorkshire for a week.
This time we decided to visit The Lowry gallery, which neither of us had been to before. But not before we'd had omelettes for lunch -- the same as last time (Peter isn't a fan of anything too exotic!).
L.S.Lowry was the artist who painted scenes of Manchester and Salford from the early 1900's until the 1970's and the gallery devoted to him is at Salford Quays. It must be about 12 years since I last visited this dockland area to use it as the location for a photo shoot. The redevelopment had started then, but an awful lot more has happened since then, and it continues...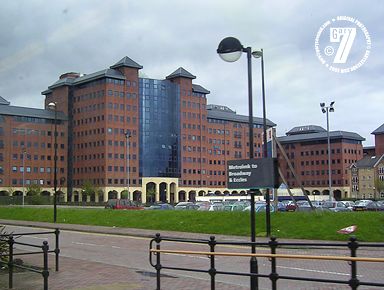 We arrived on the Metro tram (I rarely use the tram -- it's slow). It was a windy, rainy day, which made the whole area seem quite stark. I like some of the modern architecture, though I'm not sure I would want to live around here (there seem to be no shops for a start!). Many people do however.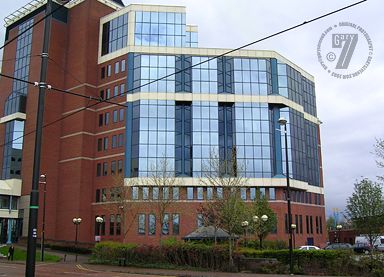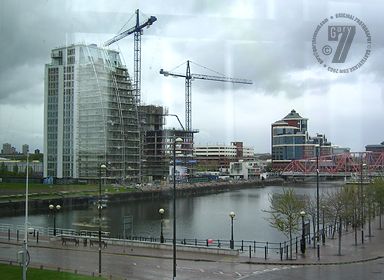 This is a view from the gallery building itself, which has floor-to-ceiling windows in some areas. They said it was OK to take photographs, providing I didn't use flash. I'm using the digital camera in many ways that I didn't anticipate. Often as a kind of 'visual notebook' -- to record anything that I may want to take a closer look at later.
Of course, no matter how good the photograph (and you're not going to get 'good' photos with a handheld camera in such dim lighting), there is nothing quite like seeing these paintings with your own eyes and savouring every brush stroke and detail.
In fact, there were fewer paintings than we expected and many more pencil drawings. But we didn't mind that. It gave us a whole new perspective on Lowry and I even found a sketch that he'd done of a location close to where I live.