Yesterday I went for an early lunch in town with Miss Noodle: a Coronation Chicken Sandwich and Latte at Pret A Manger :-)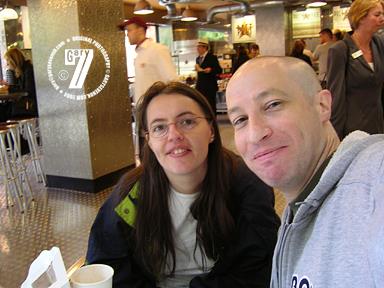 We took some pics and, just as I was about to shoot our reflection in the shiny ceiling, the camera came up with 'system error'. It was broken... I could play back the images from the SD card but the camera side of things wouldn't work. I couldn't even turn off the power. The third faulty Minolta E323 I've had since January (the one with the green smear).

I took the camera back to Jessops in the afternoon. They didn't have any more of this model and could only offer two alternatives -- a Konica and a Samsung (which cost more). I didn't fancy either and, looking at the test shots back home later, I'm glad I didn't take either of them.

It was clear the manager would prefer me to take a replacement. He was a pain in the neck and suggested the card might have damaged the camera. Even though he admitted he had 'never known' that happen ever before. I had paid partly by card, partly by cash. He wouldn't give me a cash refund and insisted on crediting it all to my card. Which he was entitled to do, though it denies me the funds to buy a replacement for a few days.

When I originally bought the camera a few months ago, the assistant charged the wrong amount to my credit card and voided that amount, trying up £140 of my credit. I then didn't have enough credit left to buy the camera and had to go away and wait almost a week until the voided transaction had cleared.

I really didn't expect this from them. I'm annoyed. I've been a customer of that shop for twenty years and won't be going back. And I won't go back to any branch of Jessops unless I'm desperate!

GET IN TOUCH


My contact information is here.