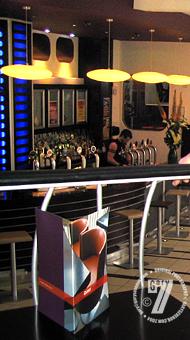 Wednesday early evening I went out for a Chinese meal at the Peking Gardens with Miss Noodle. I'm right off Chinese food at the moment and this didn't persuade me otherwise. There were too many onions in everything for my liking and afterwards I was 'buzzing'.

Then we went on to 'Queer' on Canal Street and tried out the free Internet connection. It's a good place for a coffee during the day or early evening. The prices are steep (£2+ for a latte -- eek), but the staff seem friendly.

As for the customers... there was the usual bizarre mix of suspects. Pretend 'scallies' in caps acting as if they come from Salford instead of Didsbury, guys with that 'I just woke up and slept on my hair' Beckham- mohichan-look and one bloke who was wearing flip-flops and surfing Gaydar profiles.

Flip-flops on men

are just about the most unsexy thing imaginable and we wondered what would be the reaction of the lucky guy he hooked up with!

On Thursday it was raining heavily all day. I met two friends who are moving up from the south to live in Bolton. We had coffee at 'Queer' again (I arranged a bank loan) and then all-you-can eat for £10 at Nawaab in Levenshulme. That was as good as usual, but I feel about ready to explore some new restaurants.

I've got into Big Brother in a 'big' way this year. It's the first time the series has captured my attention since the original, five years ago. I signed up for the broadband 24/7 live stream which costs £4.95 per month and I've definitely had my money's worth. In case you haven't heard, there was a fight in the house last week and the Police were called.

My favourite moment so far was seeing Victor and Jason in their clown and panto dame fancy dress outfits, with faces like thunder when two housemates unexpectedly returned.

GET IN TOUCH


My contact information is here.