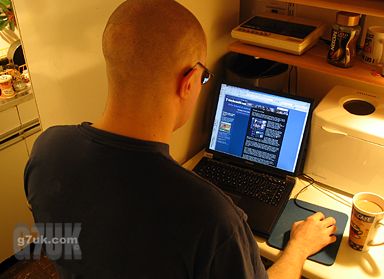 As you may or may not have noticed, I took some time off. A gap of four months between Journal entries. I don't think that ever happened before in the five years I've been keeping my Journal online (entries for 1999-2003 are currently on a site elsewhere).
In fact, I have a load of images to add to the Journal, dating from the past four months, and will put them up gradually in coming weeks. So, if you're reading this at some time in the future, I may have filled in the gaps and you may be wondering what the hell I'm talking about :-) But people often wonder that...!
I don't know how many times over the past weeks I sat down and couldn't write anything. I guess I had a 'block'. Perhaps it was to do with events of a year ago?
So, instead, I spent time on tasks that didn't involve writing. I continued with the digitisation of the neverending number of negatives and slides in my photo library. Along with my ongoing project to have a paperless office (about which I'll write more in the near future).
But in a nutshell, I aim to have every word I've ever written, every photograph I've taken and every video I've shot, all on DVD. Along with all the paperwork for house and office, going back at least five years. There's a lot of stuff, because I used to write for magazines.
Once this has been done (and I'm getting to the final stages now) I'll truly be able to work from anywhere, with just a laptop and two 100-packs of DVDs, which contain my content. I'll have everything I might need at my fingertips. Pretty amazing... And it's only in the last couple of years that affordable, fast computer equipment and storage has made this possible.
Another advantage is that, for the first time, I'll have a complete backup copy of everything stored in another location.
I still have this crazy notion of travelling for a year or two. I don't know if it'll ever happen...
Also I've spent a vast amount of time lately working on online video. Experimenting, learning, tweaking, filtering stuff to get the best quality. This is something I plan to apply across all the sites that I run. The short clips that have appeared here in the Journal so far have been something of a test, to gauge the amount of interest and iron out the technical bugs. I'm now onto my third method of presentation for the clips here in the Journal.
Yahoo is currently testing its video search service. It's clear that video is going to become a major part of many sites, although it's still way too complicated, expensive and time-consuming for most people. Will that ever change? Currently it's hard to see 'video blogs' expanding beyond a small niche. As far as my own video content is concerned, to date I feel I've barely scratched the surface of what is possible.
And yes I finally bought that laptop. The spec of even the cheapest laptop has now reached the stage where I can do the Photoshop and video editing work that I need to do. Which is great -- because I was tired of being tied to the desk so much.
In fact I was more mobile fifteen years ago when I only needed a computer for text and used to write my stuff on a Cambridge Z88. A review in Punch magazine famously described the feel of the Z88's rubber keyboard as being like 'typing on a dead body'.
Also I hoped that a 'new toy' might renew my enthusiasm for Journal writing (it didn't). But then, about two weeks ago, the spark began to burn again :-)