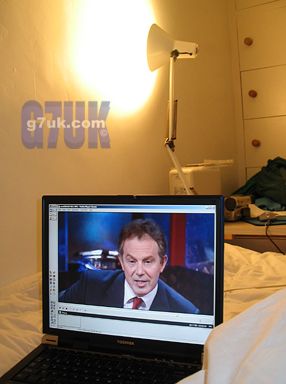 I watched Tony Blair squirming on Panorama. He seems to thinks that if he keeps on repeating the same old half-truths over and over, people will eventually believe him and stop asking questions about the dodgy things he's done.

I never thought I'd dislike a British Prime Minister more than Margaret Thatcher. But Blair is way ahead. As he walked into the TV studio he was booed by the audience and there was an ugly moment right at the end when some people from the audience stood up and walked across to him.

Just to talk with him I'm sure. But the security people could be seen on the sidelines, clearly anxious for the music to finish and the programme to end, so they could rush across. On the other side, one security man appeared to be running over already and apparently stumbled over a sound man.

UPDATE

In the election that followed, only 36.4 percent of the votes cast were for Tony Blair and the Labour Party. The lowest proportion of voters of any government since the introduction of universal suffrage in 1928.

'Tony Blair Didn't Win' by Greg Palast.

GET IN TOUCH


My contact information is here.