A couple of days before Christmas 1995 I moved to Bow in East London.

The friend who had helped me move my stuff was facing Christmas by himself. So, after some heavy hints from him, I invited him to come and stay for the holiday.

It was a big mistake. By Boxing Day (26th December), we had been cooped up, mainly in my small room, for two days and I was desperate to get out for a while. So we began walking towards Brick Lane, through a part of London I didn't know at all.

It was a cold, grey afternoon and the light was beginning to fade as we made our way through a quite desolate area where almost all the buildings had been demolished. All except one derelict red-brick school, its windows broken, some boarded with corrugated metal sheets. It towered over the broken down walls and the remains of what had once been a street.

As I stood near some piles of sand and rubble near the kerb, a shiver went down my spine. Usually I like derelict buildings. I find them dramatic and poignant and have photographed a few. But this was one of the creepiest places I'd come across. I couldn't wait to leave and soon we found our way to Brick Lane.

A couple of years later I was browsing on the web and came across this page (external link). To my surprise, there was a photograph of the school (third picture from the top), just as it looked on that day in 1995.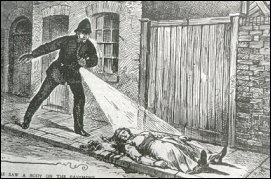 It turns out I'd been standing on the exact spot where the body of Jack the Ripper's first victim, Polly Nichols, was found on August 31, 1888.

Perhaps if I'd seen a street sign at the time I might have realised. But there were none and, anyway, it seems the name had been changed from Buck's Row to Durward Street. I didn't even realise we were in Whitechapel.

More strange stories soon!

EXTERNAL LINKS

Casebook: Jack the Ripper: the world's largest public repository of Ripper-related information

London Walks: Jack the Ripper locations and archive photos. Includes a photo of the rennovated school building as it looks today. Warning - also includes graphic images of the victims.

GET IN TOUCH


My contact information is here.