My friend Peter and his nine-year-old son are fans of the comedy double-act the Chuckle Brothers and always go to their shows when they come to Manchester. Ever since he was a kid, Peter has wanted to take a custard-pie in the face and he thought it would be fun for his son too.

So, being a good friend, I offered to help him out and we agreed I would catch him sometime. We even went so far as discussing what ingredients would make an effective pie, during one of our shopping trips to ASDA.

But then I left it a month or two until he really didn't expect a thing... You know how dull it is in the days just after the long Christmas and New Year holiday? I decided the morning of 3 January was his lucky day...







Now when someone says something you don't like on MSN you can 'pie' them :-) Works great!

Use and share this animated emoticon, providing it isn't altered in any way and the URL (website address) stays on it. No commercial use allowed.
The pie was a sponge flan base on a paper plate. Filled with strawberry jelly, pieces of tangerine and topped with spray cream. All the ingredients were past their sell-by date (nice!), so no good food was wasted. And I helped him clean up the mess ;-)

As well as deciding on which ingredients would give the best visual effect, I realised there was an art to delivering a pie effectively (and safely). So I watched a few videos. Here are some of my favourite custard pie moments from film and TV. Looking through these I was struck by how many of them feature similar gags: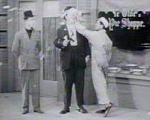 Laurel and Hardy - Battle of the Century (1927)

Dating from 1927, this has been described as the most spectacular pie fight in film history. The studio bought the entire day's output of the Los Angeles Pie Company -- more than 3,000 pies. A re-edited version of the fight is included in the 1957 Robert Youngson complilation 'The Golden Age of Comedy' which probably started off the whole craze for pie fights in films made in the 1960's. Sadly the original full-length version of this film seems to have been lost. No one delivers a pie quite like the stars of the silent era. They didn't need any fancy angles or editing. Many of these actors (including Stan Laurel) had started out in the musical halls, so their timing was immaculate.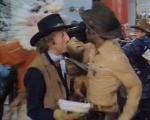 Blazing Saddles (1974)

When Mel Brooks turns this into a film within a film, the cowboys and dancers burst into the studio canteen where, amongst others, Hitler, Tarzan and Cheetah the chimp are having lunch. There are some fun visual jokes: the members of the public on the studio tour are seen walking into the canteen. The next time you see them they are coming out covered in food. Hedley Lamarr (Harvey Korman) is seen sneaking out of the gents having deliberately applied some pie to his face. There are some well-delivered pies, including a double pie shot where Gene Wilder and Cleavon Little both splat people by throwing in opposite directions. However many of the shots are speeded up a little, which is a mistake in my opinion.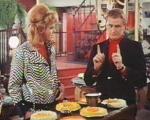 Smashing Time (1967)

When Northern girls Brenda (Rita Tushingham) and Yvonne (Lynn Redgrave) fail to hit the big time in swinging London, Yvonne lands a job in the Sweeney Todd pie restaurant. John Clive appears as the wonderfully-camp owner of the restaurant: 'pies again I'm afraid'.

Needless to say it all ends in a massive fight when Yvonne spots Brenda out on a date with top photographer Tom Wabe and chucks a sneaky first pie. Jeremy Lloyd, as a waiter, delivers a masterful pie early on in the sequence and a running gag is John Clive repeatedly coming out of his office in a clean outfit, only to be splattered again. There is the diner who continues to eat his food oblivious to the pies flying around him and, as flans fly out of the window, there are some funny sight gags as they hit a street preacher, traffic warden and a 'queen' who shoots himself when his fashionable outfit is ruined.

One pie lands inside a woman's dress and she walks away as if nothing happened. Rather like the woman who slips and sits on a pie at the end of the Battle of the Century pie fight. Smashing Time is one of my favourite 'so bad it's good' films and something of a gay cult classic.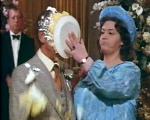 Carry On Loving (1970)

The last five minutes of this rather-average Carry On film include a great pie fight at a party. Hattie Jacques starts things rolling by slapping Sid James with a huge cream pie and does so with some force. But there are no speeded up tricks here. There are pies down dresses, a violinist and photographer splattered, a bald man who gets a pie and falls off his chair, plus the obligatory tit for tat pies which miss their intended target and add fuel to the fight. Well planned, shot and edited. Though see if you can spot the shot of a table collapsing, which appears twice.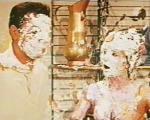 The Great Race (1965)

Some colourful pies in a big fight in a castle kitchen, but things get messy a little too quickly. Part of the fun of a pie fight is to see people getting splattered for the first time. It's not such fun when most of them are covered from head to toe almost from the start. Tony Curtis does the old gag of walking through the flying pies while remaining untouched, until the end when he is accidentally flanned by his driving partner (Natalie Wood).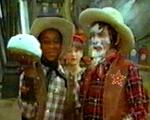 Here Come the Double Deckers (1971)

In the episode Make a Movie, not a fight but just a couple of pies well-delivered by young Brinsley Forde (as Spring). The plot calls for him to custard-pie Melvyn Hayes (and who could resist that?). Looking closely, it seems Brinsley can hardly hide his glee at the prospect and has trouble keeping a straight face as he gets ready. Whenever I see this, his evil grin makes me laugh.

EXTERNAL LINKS

Buster Keaton's custard-pie throwing tips and techniques.

All kinds of fun silly jokes: fake tattoos, warts, boils & wounds, make up & costumes, wigs, false teeth, fake blood and effects.
GET IN TOUCH


My contact information is here.