Sometimes you see something and immediately you realise that it's just what you've been looking for. This happened to me last Saturday when I picked up The Guardian and read about a new Digital Voice Recorder from Olympus.

The problem I have is that both my camcorder and digital camera (which does movies) depend on a built in microphone. Neither has a socket for an external mic (not many camcorders do these days).

For general sound pick up that works fine. But, if you need a good voice recording, the mic needs to be within a couple of feet of the person. Unfortunately, move the camcorder that close and you may not get the visuals that you need (the shots can also be unflattering).

I thought a mini disc recorder could be the solution for good sound. But most also lacked a microphone socket and I was concerned that they were rather fragile.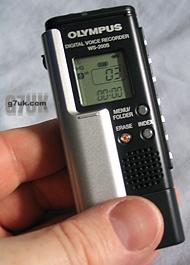 Then, last weekend I saw the Olympus WS-200S in that article. It's small, light and records 4 hours 20 minutes of near CD quality stereo audio (or nearly 9 hours in mono) on a built-in memory in Windows Media Audio format. It has sockets for an external microphone, headphones and easy USB connection for drag and drop transfer of files to your PC. No need to digitise sound from a tape or disc anymore. The recording capacity can be stretched to more than 54 hours in the lowest quality mode.

I found some sample recordings online and was impressed by the quality. So, within two hours of first reading about it, I had placed an order.

As it's a new product, I had some problem finding a supplier here in the UK. Finally I found a couple and xfast.co.uk had the best price (£90.64 including delivery). Good service too... I ordered on Saturday and it arrived Tuesday morning.

This seems to be one of those products which is available in the USA for about half the price. It costs around $100 over there. But FedEx shipping would have added $65 and I could have been hit by customs duty. So, not worth the trouble. Rip-off Britain eh?

Well I'm absolutely delighted with this tiny recorder. It measures just 95mm x 40mm x 15mm and weighs in at less than 2 ounces including the AAA battery. The sound quality is really quite amazing. Especially if you grew up on audio cassettes. The built in microphone is fairly good, but plugging in a stereo mic gives better results and cuts out handling noise, which can be a problem.

So, the person I'm filming can now wear a tie-clip mic and record their voice onto the Olympus WS-200S. Afterwards, in Vegas Video I sync up that sound with the picture from the camcorder. The easy way to do that is use the camcorder soundtrack as a guide and move the Olympus audio until it's lined up.

Or, at the end of each shot, the person can do a handclap, which is then used as a reference point for syncing up sound and picture. Some kind of ident is a good idea too (for example hold up five fingers and say 'shot five' so you know which audio and which visuals go together).

I've since discovered that the BBC is removing all mini disc equipment from its studios by next year and going over to this type of recording on memory cards, albeit using more expensive equipment as they don't like originating with compressed formats such as MP3 and WMA.

Anyway, if you're into video blogging or podcasting, you may want to check out this little beauty from Olympus.

UPDATE: good review here.

GET IN TOUCH


My contact information is here.