The water company is digging up the road at the junction of Deansgate and Peter Street. They're replacing the old Victorian water pipes.
Just outside Tesco I noticed that one of the holes had revealed the old cobbles and what must be one of the tram lines.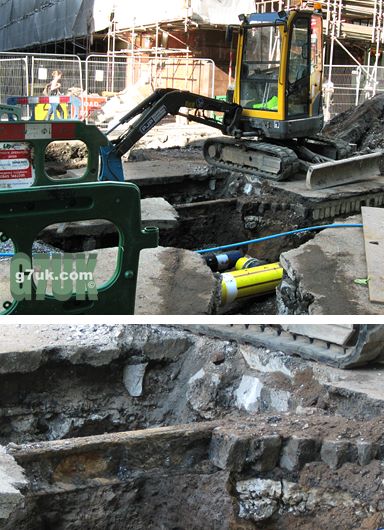 Cobbles lie under most of Manchester's streets. They were just covered over with tarmac and you can see how that raised the level of the road by four or five inches. The roads were full of horse droppings in those days, so the higher kerbs helped keep that off the pavements!
Some archive shots at the Manchester Libraries Local Image Collection:
* Tram poles on Peter Street in 1902.
* A tram on Peter Street in 1904. In the distance is St Peter's Church in St Peter's Square.
* Terrific shot of trams at the junction of Peter Street and Mount Street in 1914. The camera is looking towards St Peter's Square and the corner where the Central Library now stands.
* 'Traffic problems' on Peter Street, 1912 (same camera angle as the shot above).