* Employment tribunal reaches decision
* Funding crisis: Outnorthwest magazine slashed
* An NHS-funded registered charity that engages in politics
* 62% of the annual income goes to pay 23 employees

TRIBUNAL VERDICT
An employment tribunal has now reached a decision in the case that was brought against Manchester's Lesbian and Gay Foundation by two former employees.
A female ex-employee accused the LGF of unfair dismissal and she and a male former employee accused it of age discrimination.
The tribunal decided that the woman was unfairly dismissed but rejected both claims of age discrimination.
According to a source, having lost part of the case, the LGF now faces a bill for legal costs and the tribunal which could run into tens of thousands of pounds.
More information about the verdict on the Pink News website.
FUNDING CRISIS
Outnorthwest, the LGF's monthly magazine is to be cut from 72 to 48 pages and, from May, will only be published every other month. So in effect it is being cut by two-thirds.
Most magazines and newspapers have suffered a fall in ad income in recent months due to the economic situation. But a little bird tells us that the LGF is owed a lot of money by advertisers who haven't paid for ads that have been published.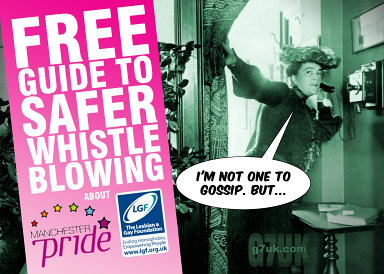 According to the very talkative bird, Outnorthwest has stopped accepting any ads for clubs and bars because they simply weren't paying up. Allegedly the amount owed is equivalent to the LGF's annual rent on its leased Princess Street HQ. If true, that means there is a debt of £75,000.
A look at the LGF's accounts for the year ending 2008 (PDF), shows that £114,120 came from magazine advertising, out of total income of £1,122, 280.
Only an organisation like the LGF could put a spin on something like this. In its latest 'Daily Out' (PDF) the slashing of Outnorthwest to a shadow of what it was is described as ' an exciting opportunity' which frees them up to 'focus on issues that directly affect our communities'. They explain that the magazine will 'now become almost exclusively editorial led'.
Which makes you wonder what it was being led by and doing previously.
If anyone from the LGF reads this and has different figures, please drop me a line. I'll be glad to publish them and make any corrections.
Manchester's gay bars and club have a long history of not coughing up for ads. Twenty years ago I heard that Mancunian Gay magazine had exactly the same problem.
LOCAL 'NEWS'
With traditional local newspapers and TV news in financial crisis attention is turning to competition from council-funded 'newspapers'. It may be that the local population gets some 'news' from such publications, but it will never be anything critical of the council. Whereas, traditionally, local newpapers have held local government to account.
I suggest that Outnorthwest is in a similar vein. We will never see any real discussion about, or investigation of, Manchester Pride, the City Council or local businesses because they are all in bed together.
PLAYING POLITICS WITH NHS MONEY
The LGF is a registered charity. In the year ending 2008, £623,103 of its income came from several NHS Primary Care Trusts. This represented around 55% of its total income of £1,122, 280 for that financial year.
Whatever our politics, we all pay into the NHS and it is reasonable to expect that that this public money will not be used to progress any particular political agenda. Despite this, the LGF is now engaging in politics and allowing its Princess Street premises to be used for political purposes.
I don't support the British National Party (BNP). On the other hand, it is a legal political party in this country, with politicians who have been elected democratically.
Currently the LGF has on its website, under 'news', an article:
'HOPE not hate urge LGBT voters to stop the BNP'
This is an interview with Searchlight an 'anti fascist' magazine, which urges:
'all people including the lesbian, gay, bisexual and trans communities to turn out in force for the European Elections on June 4th and use their vote to stop the British National Party'.
There are details of a meeting by 'Manchester campaigners' to be held at The Lesbian & Gay Foundation on Wednesday 29 April 2009. And, with the enticement of seeing 'Eddie Izzard for free', the article finishes by encouraging readers to sign up for two hours delivering 'anti-BNP' leaflets on 16 and 17 May. This final call to action isn't part of the interview. It comes from the LGF itself.
Incidently, the LGF couldn't even get the name of the Soho bomber right, calling him 'John Copeland' instead of 'David'. It has now been changed. And oh look, there's a picture of a gay skinhead in a safer sex ad alongside the article. How ironic!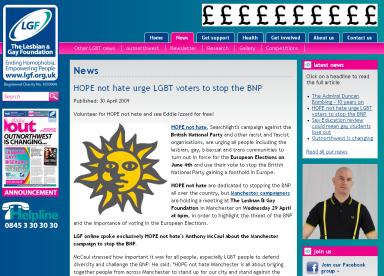 This is a disgraceful abuse of the LGF's position, charity status and NHS funding. It should provide a service for everyone. Any involvement in politics should be limited to lobbying for the various causes it is concerned with and maybe highlighting the differences in policy between the various parties.
Encouraging people to campaign against one particular political party is well out of order in my opinion, especially when an inducement is offered. Hilariously, in the About Us section of the LGF website it states:
Diversity: We believe we should be accepting of others and celebrate people's difference.
Fairness: We believe everybody should be treated with dignity and respect.
The worst part is that this is exactly the kind of thing that is alienating certain LGBT people and driving them right into the arms of the BNP. They feel that the narrowly-focused Canal Street 'community' in Manchester isn't for them.
Some of us may disagree with people who vote for the BNP. But if you are gay and do vote for them, is it right that you should be made to feel uncomfortable using a community resource that is mainly funded by the NHS and which is taking on some of the services that the NHS provides? How would Labour voters feel if the LGF started actively campaigning against Labour?
EMPIRE BUILDING
People who have far more insight into the voluntary sector that I do have written about the way the LGF has sucked up almost all the charity funding from Manchester Pride and set up 'me too' support groups in competition with those that are already being run (often unfunded).
The result is that a handful of people control everything that happens in LGBT Manchester and impose their own narrow 'lifestyle' agenda. It's unhealthy.
Amazingly, in 2008, the LGF had a permanent staff of twenty-three. That included four senior managers, an operation team of five, six-and-a-half people in the marketing team, five-and-a-half doing admin and two engaged in fundraising. This is detailed in the accounts (PDF).
In 2008, the bill for wages and salaries (£592,901), employer's National Insurance (£58,572) and pension costs (£43,423) totalled £694,896 out of annual income of £1,122, 280. About 62%.
One person earned more than £60,000 and the remaining wages and salaries figure averages out over the other 22 employees at £24,222 each.
You may wonder what on earth they all do. I used to be features editor on a national 130-page monthly magazine. I reckon it should take no more than four people (three in editorial and one selling ads) to produce a monthly 78-page Outnorthwest magazine.
Also bear in mind that many bits of the LGF are provided by an army of unpaid volunteers. Also professionals from outside, such as nurses from the NHS who come in to run the sexual health clinics.
Many of them are decent people with a heart of gold. But, at times the whole set-up seems rather peculiar. Nurses at the sexual health clinic at Manchester Royal Infirmary suggest that next time you may like to go for a sexual health check at LGF headquarters instead. Or possibly one that is held in a sauna. No thanks!
This isn't 'outreach'. It's an attempt to transfer gay and bi men, who are happy going to the MRI clinic, to the LGF instead. Maybe to justify the LGF's existence?
Meanwhile standards at the sexual health clinic at the MRI seem to be in permanent decline, despite their swishy new building. My last visit at the end of 2008 (a routine check!) was like something out of 'Carry On Doctor'.
The appalling answerphone system and (at one time) six week wait for an appointment seem to have been remedied at long last. However, I was told that certain tests can no longer be done 'same day' because the new building is further from the lab and I was even asked to do my own swab. That was a first.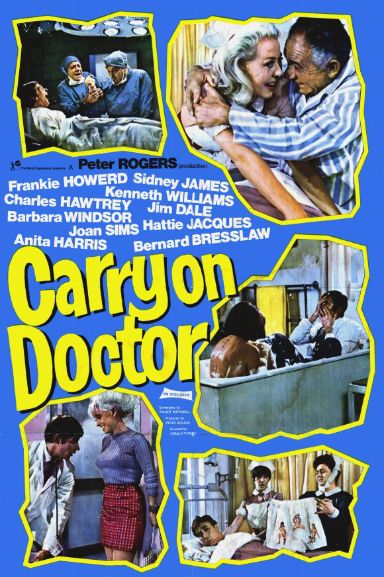 After producing a urine sample in the toilet cubicle I reached to flush and, with a loud 'clang', the handle dropped off the wall into the toilet bowl! I expected Kenneth Williams to appear in character as 'Doctor Tinkle' at any moment.
Is this the standard of the PFI-built hospitals that we will be paying for, for decades to come, on top of all the other debt?
Glad to say that my experience of other MRI departments in recent years has been much better.
It's time to put the money and services back where they should be, instead of needlessly farming them out to quangos such as the LGF.
THE FUTURE
Although it does provide some worthwhile services, overall the LGF is a Frankenstein's monster that has rampaged out of control.
It symbolises a lot of what has gone wrong over the past decade: people building up empires for themselves and core services handed over to third party charities and businesses in an attempt to disguise the growing public sector (I'm sure the NHS could handle the distribution of condoms itself).
On a general note, some people suspect that money may naturally filter back to the Labour Party when those charities and businesses employ, or are owned by, grateful Labour supporters and donors.
You only need to look at the LGF's anti-BNP campaign to see that the organisation is not apolitical. Consider who is behind all the anti-BNP campaigning? Labour probably has the most to lose if the BNP does well and there's an Eddie Izzard/Labour link (see bottom of the page).
Purely from an economic perspective, it's hard to see how the LGF can and will continue. Britain is bust. Labour is likely to lose the next election. But, whoever wins, there will be severe cutbacks of a kind that anyone aged under 40 has never seen in their adult life. The NHS will cut none essential services.
The 'lifestyle' advertising bonanza is over. The revenue from property developers has dried up, never to return. From now on, more shops and clubs will close than open up.
We'll see how much money the bloated Manchester Pride has to distribute to good causes later this year. An event where the running costs have increased more than 600% since 2002. Which is the kind of thing that just can't and won't be tolerated in future…
UPDATE (5 May 2009):
Later on the same day that I posted this article, the LGF added a news item: Euro Elections: use your vote.
The LGF's BNP article was originally posted on 30 April. By 5 May the article had been edited to remove references to the Eddie Izzard event, which by that time had passed. It was replaced by a block of text listing rallies.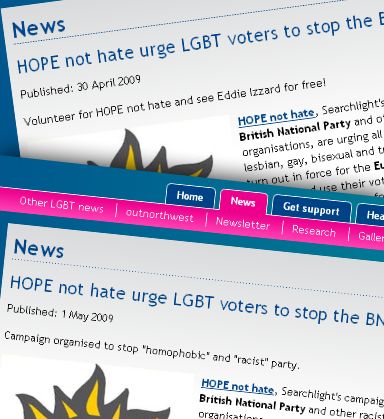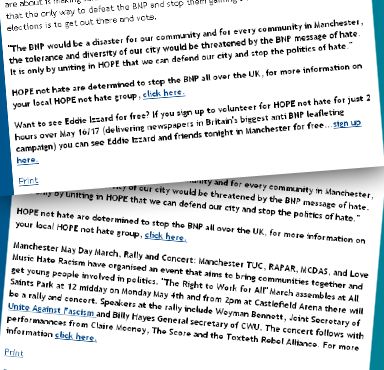 UPDATE (11 May 2009):
The Charity Commission supports 'a charity's right to campaign provided that they are clear about the link between the campaign and their objects and remain independent of political parties.' 
However, in the case of the LGF's article about the BNP, the Commission decided it wasn't as clear as it should be. So it will write to the charity to 'highlight this issue' and remind them to 'clearly demonstrate the link between the political party's policy and their objects when campaigning'.
UPDATE (22 May 2009):
In an interview to a media industry website, the editor of Outnorthwest has confirmed that some advertisers haven't paid up. But you read it first here on g7uk.com, 20 days before, because a little bird emailed to tell us.
Let's hope those little whistle-blowing birds keep twittering.
Original vintage cartoon: the Library of Congress
Six weeks later they were at it again, with a glowing tribute to Labour MP Phil Woolas, who is Minister of State for Borders and Immigration and a patron of the LGF.
There's even an attempt to put some positive spin on the Ghurkas debarcle. But no mention of the treatment dished out to asylum seekers lately and despite recent dodgy comments by Mr Woolas on these issues.
In February the High Court ruled that a gay asylum seeker, who was deported illegally and now lives in fear of persecution, should be returned to the country. He was deported last September before Phil Woolas took on his current role. But Mr Woolas has made clear that he wants to curtail the judicial review process which led to that very decision. Surely that is worth a mention in your profile of him LGF?
How does this square up with engaging in politics so long as the LGF is 'clear about its objectives'? Surely protecting the rights of desperate LGBT asylum seekers is an LGF objective?
LINKS
* UK Parliament: video of the HoC Public Administration Committee with a discussion of public sector pay, 30 April 2009. This touches on the lack of transparency when public services are provided by businesses. Even when businesses receive their entire income from the public purse. The journalist Polly Toynbee is one of the witnesses and reveals how much she is paid by The Guardian (have a guess)!
* 'Charities must get back to doing good works': Libby Purves (The Times)
* The Spectator reviews Jonah Goldberg's book about liberal fascism
* The Times reports that Eddie Izzard is considering a career in politics. 'It's clear, Izzard says, that the Labour party is his natural home. He has recently donated thousands…'.