Last Friday's outing was the fourth annual Naked Bike Ride in Manchester.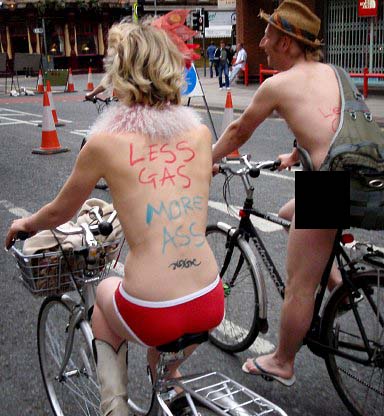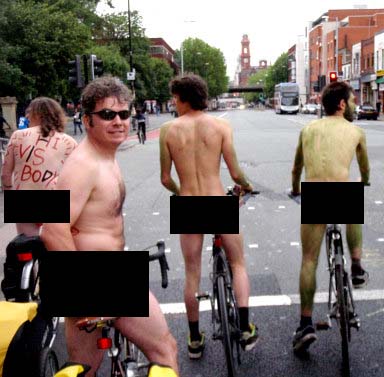 In previous years the riders had a good response from Greater Manchester Police, including a police escort for the first two years. It looked as if 2009 would be no different…
Forms were filled, the route submitted and the response from the police seemed to be 'up-beat and positive'.
Because the riders were starting off from Whitworth Park in Rusholme this year, the city centre police passed details onto the local station that covers that area and they were told an observer might be at the park to see them off.
This was the first hiccup. The police did show up and expressed concern to the riders that they were in a park where 'there may be children present'.
Locally this area is known as 'murder park', due to all the knife and gun wielding youths in the vicinity, so personally I think the naked people had more to fear than the kids! But nudity just isn't natural is it?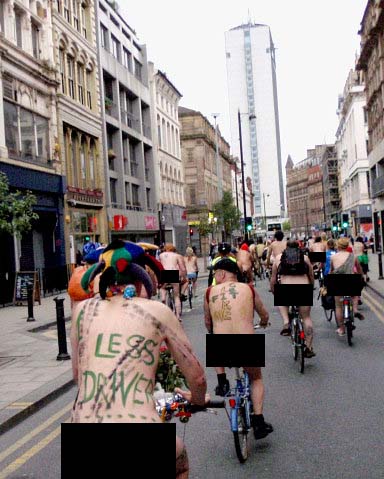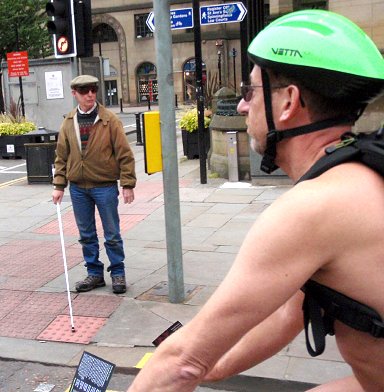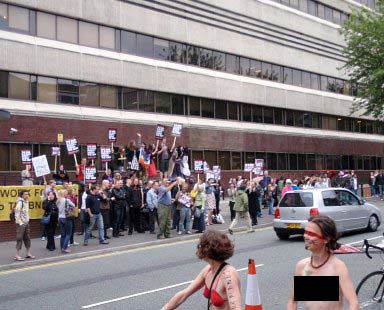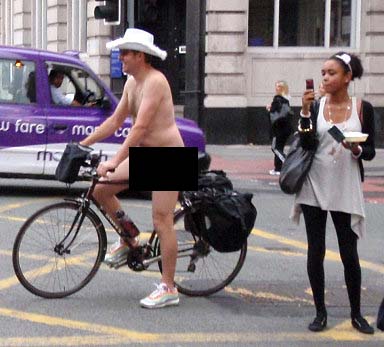 Nevertheless the riders set off and all went well until they reached St.Ann's Square in the city centre. There a policeman flagged down some of the riders at the rear of the group, incorrectly told them it was illegal to be nude, and that people had complained. However eventually the riders were able to catch up with the rest of the group.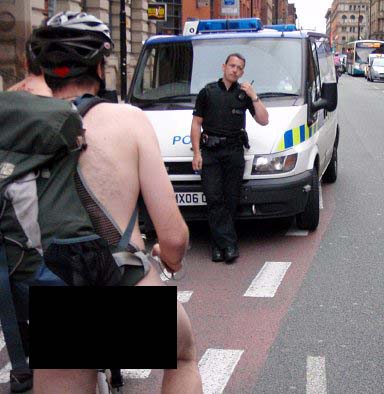 Ten minutes later, on Portland Street, the riders were stopped by police in vans. They were told they had agreed to cover up for the city centre part of the ride (not so, say the organisers) and that just because something had been written 'on a piece of paper' that didn't mean it had 'been agreed'.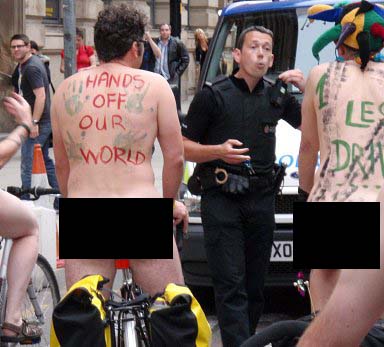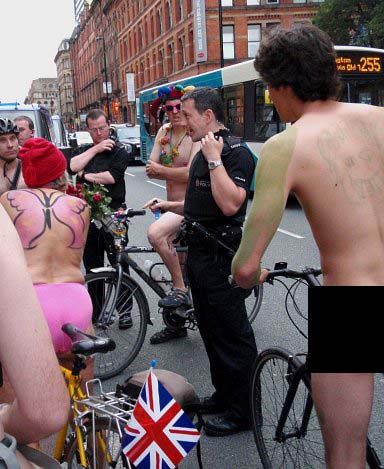 After about 20 minutes of 'discussion', during which time the general public got far more an eyeful than it would have done if the riders had just zipped past, the riders were instructed that those who were completely naked should ride in the middle and were 'allowed' to continue. But some were left feeling upset and intimidated.
It won't come as a surprise to some photographers reading this, that the Manchester police officers seemed to be unclear on the law as regards what is and isn't allowed to happen on the street.
The Manchester Evening News will publish a story about this later today and it is shaping up to be something of a PR disaster for Greater Manchester Police and the city itself. As it is one of the few in the world where naked bike riders were hassled. What a shame for Manchester.