Latest (25 March 2010): a video of my visit to the site today. This shows the current situation and casts further doubt on the claims of 'desecration'.
As church attendance figures have plummeted over the decades many buildings have been saved by being converted to a different use.
One old church on Dickenson Road in Rusholme became the Mancunian Film Studios from 1947-1953. After that it was sold to the BBC which used it for Grandstand and the first editions of Top of the Pops.
Another church at the junction of Plymouth Grove, Stockport Road and Birch Lane housed the BBC's outside broadcast vans which were used for It's a Knockout, the Good Old Days and sports coverage. But once TV moved on, both of those buildings were demolished.
Other churches would have gone the same way if they hadn't been saved by becoming carpet warehouses, garages, mosques and Islamic academies. In some cases a considerable amount of money has been spent on buildings by these religious groups. Though, on occasions, even they have met obstacles.
The Grade II listed former Welsh Baptist Chapel on Upper Brook Street was designed by Sir Charles Barry — the architect of the Palace of Westminster in London.
However, in 2005, it became a ruin and despite the best attempts of the Islamic Academy that had been based there since 1974. After decades of neglecting the building, the owners — none other than our own beloved Manchester City Council — declared it unsafe and removed the roof. In distressing scenes, plasterwork and piles of stone were dumped outside and left until eventually they disappeared. It has been derelict ever since.
The Islamic Academy had spent £16,000 of its own money on employing a structural engineer and an architect to draw up plans for repair and improvement to the building. But, in the end, was unable to get grants from English Heritage and the Lottery Fund to carry out any work.
St. John's Church in Longsight is another that is used by the Asian community. It's currently at the centre of a row over development of part of the churchyard, which lies to the west of the building along Holmfirth Street.
The BNP and its supporters claim that graves have been 'desecrated' and headstones smashed to make way for a new car-park. In videos posted on YouTube, there are location shots of a presenter and a digger at work, intercut with misleading still images of headstones. Misleading because these headstones are actually on the other side of the church and still standing.
It's all served up with an unpleasant helping of Islamophobia. The article and videos point to the lack of coverage of this issue in the mainstream media and contrast it with stories that have appeared about Muslim and Jewish cemeteries that have been vandalised.
The videos show photographs of broken headstones on the ground. But were these close-ups at St.John's Church and I wondered if the lack of mainstream coverage was because the story wasn't true? I decided to investigate…
First stop was the Local Image Collection at the Manchester Libraries website where I found several images. Unfortunately most show the church from a distance or from the east side.
However this shot dating from 1968 and taken from Holmfirth Street shows the west side and a couple of headstones are visible on the west side at the foot of the tower.
Note (on 23 Feb 2010): the Google satellite image has been updated with a more recent photo since I first wrote this article.
An old-looking satellite image on Google Maps seems to show what could be a row of headstones lying flat like a path, again along the west side of the church. Switching to more recent scenes on Street View, the same thing can be seen.
Are these headstones? At some point after 1969 were they laid flat on their respective graves to form a kind of path?
Whatever they were, they seem to have disappeared in the shots in the YouTube videos. I plan to go and take a look for myself.
While many people will find the presentation offensive, nevertheless this video seems to show on-the-spot footage of a least one broken up headstone. Another of the videos can be found here.
St.John's Church is a grade II listed building. So it would be interesting to find out what has happened. Was that 'path' made from headstones lying flat? Have some been removed temporarily for safekeeping during the building work? Or have they indeed been smashed up by a mechanical digger? If so, did planners at Manchester City Council give permission for that? I don't have answers at the moment. Going on the City Council's past record on listed buildings, nothing would surprise me.
The apparent lack of coverage by the media is interesting. Is this because of political correctness or because of their fear of the BNP? If they don't cover the issue, doesn't that just let the BNP make a meal of this on its own website and on online spaces such as YouTube? And where does the lack of coverage leave the protection of our heritage and listed buildings?
To read more about some of the issues surrounding this, check out Timothy Bowes' post: More than bricks and mortar.
I'm sure some people won't like me writing about this and linking to these videos and I'll be accused of 'legitimising the BNP'. I disagree. Hushing up things and turning a blind eye isn't a viable way forward. When these stories pop up, the only way is to investigate and publish the truth.
Exaggeration or lies that are designed to stoke up religious hatred must be exposed. But so must any other wrong-doing by whoever, including the City Council.
Twenty-five years ago I lived in Longsight. Here's a photograph I took in front of St.John's Church, probably in 1985. It shows the school crossing attendant taking a break.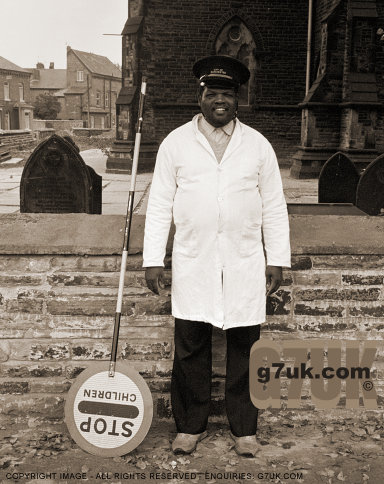 You'll notice there's a strange house in the background that looks as if half of it is missing. No, not a photographic error, it really exists.
Curiously, as I prepared this image to go with the post I noticed there's a gap in the wall and large mounds of earth in exactly the same controversial spot and this almost quarter of a century ago. I wonder what was happening in the churchyard back in 1985? Could there be a connection? Perhaps that's when the headstones were laid flat?
Old pictures have a tendency to throw up mysteries like this and it's one of the many reasons why I love photography.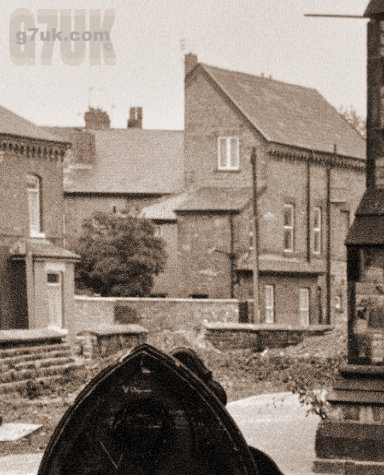 Update: 4 November 2009
I've had a response from the planning department at Manchester City Council.
Planning permission for a small car-park for 16 cars was granted on 26th March 2007 (ref. 082132/FO/2007/N2). This 'specifically related to a grassed area, which included a small raised planting area'. You can see this raised planting area on Google Street View.
The planning permission does not permit the demolition of headstones. The planning department claims that 'at the time of the submission of the planning application, there was no visual indication or information to suggest grave stones lay on or under the part of the site which it was proposed to develop.' So, the mystery deepens over the 'path' which looks like a row of headstones lying flat.
They write that there is no evidence that actual graves have been disturbed and that 'works on site have been limited, with no significant excavation'. However the City Council has contacted the Ministry of Justice which would deal with such matters.
A temporary Stop Notice has been issued to 'allow consideration of a possible breach of planning control relating to conditions on the planning permission'. And they write that the 'allegation concerning the possible disruption of headstones is the subject of on going investigation which has yet to be concluded'.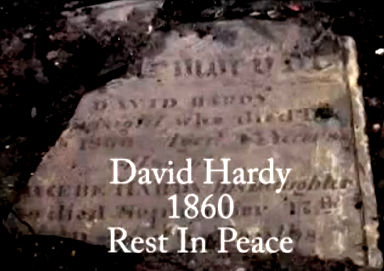 As well as including video footage of what seems to be a broken headstone lying on the ground, one of the YouTube videos includes a photograph of a broken headstone with the inscription 'David Hardy'. Some people may claim this photo could be from anywhere. True, but it must be a fairly simple thing to check the burial records for St. John's Church to see if a David Hardy was buried there in 1860 and that will validate this photograph.
By intercutting shots of headstones that are still standing at the front of the church, with the building site, the videos on YouTube give the impression that a whole graveyard was bulldozed.
Whereas what I've discovered so far only shows that there may have been a row of graves running along the west wall of the church. Of course it's possible that at some point headstones that were dotted across the churchyard on the west side were lifted and put in line to form that 'path'. But so far I've been unable to find any photographic evidence which would support that.
Was the 'path' made up of headstones and, if so, the surveyor must have noticed it? The planners claim there was no visual evidence of headstones in the 'proposed' building area. But did the proposed area include the path?
This wouldn't be the first car-park on a graveyard. In fact I believe there is one on the site of the former Grosvenor Street Chapel at Chorlton on Medlock. I wouldn't say this was 'desecration'. However smashing up headstones, especially if they are still on top of the original graves is another matter.
It may seem that the media is keen to report the vandalism of some headstones and describe it as 'desecration' whereas smashing up others with a digger isn't even reported. But it comes down to intent too. In one case the damage is motivated by religious hatred and in another might be due to mistakes and misunderstandings on the part of planners and builders? Or maybe one or two pieces of broken headstone were already in the overgrown 'garden', before any work started?
Is the media running scared due to the subject matter? I'm not sure it is. There are all kinds of stories and subjects in Manchester that don't get any coverage.
Update: 18 March 2010
A further video has been added to YouTube called 'Desecration the final proof'. In fact still it fails to provide any hard evidence at all that there were graves in the enclosed 'garden' area — the place where the car-park is being constructed. The 'path' against the church wall seems to be visible in the background of the video, so is still there. The drainage holes that have been dug are, again, in what was the garden area and the low walls of which are visible on the current satellite image and can be seen on the satellite image.
So we are still waiting for archive photos of that part of the churchyard that runs alongside Holmfirth Street or some other definite proof. Just saying it was a graveyard isn't good enough and isn't proof.
Update: 25 March 2010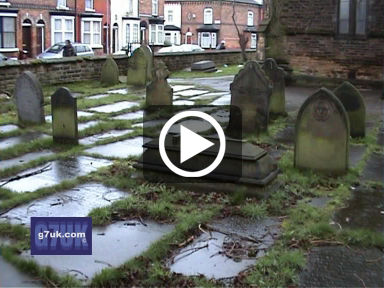 A video of my visit to the site today. This shows the current situation and casts further doubt on the claims of 'desecration'.