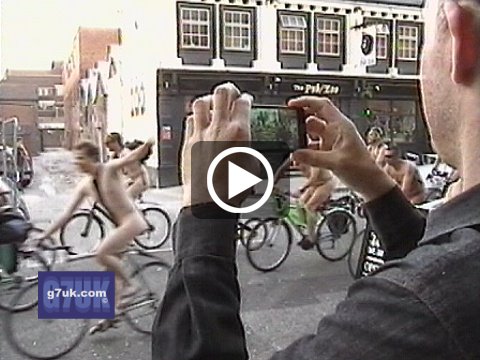 Naked cyclists gathered at All Saints Park in Manchester on Friday 1 June 2012 for the city's 7th World Naked Bike Ride. Then they spent an hour zipping around the city centre to the delight of onlookers, many of whom had just finished work before the Diamond Jubilee bank holiday.
It's an environmental protest to raise awareness about oil dependency. But also a celebration of the bicycle and the body and intended to highlight the vulnerability of the cyclist in traffic.
This year the riders didn't have an escort from the police, but volunteer marshalls kept everyone safe.
The World Naked Bike Ride takes place in 70 cities in 20 countries worldwide.
Our 2012 video is short and (hopefully) sweet! See our 2008 coverage for an 8-minute video which includes interviews with the riders and public.
The 2011 video is also longer at 9 minutes but doesn't have interviews.