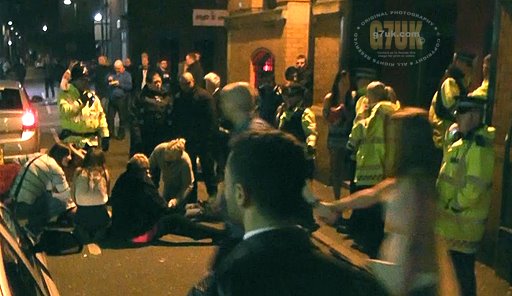 The early hours of 13 January 2013. A still from the video footage which you can watch below. As I recorded this on Richmond Street I was physically assaulted by a man who took a swipe at my camera. He was bleeding and I was left with his blood over my hand and the camera. I'm sure the police saw this but they did nothing. Another person who was filming had his shots deleted from the memory card by police officers after they bundled him around the corner. Guidelines from the Association of Chief Police Officers (ACPO) warn that any police officer who deletes a photographer's images could face criminal, civil or disciplinary action.
A Freedom of Information request has revealed the scale of police call outs to gay village venues.
Greater Manchester Police supplied a list of 4,079 pubs, bars and clubs they had been called out to in 2011-2012 (some venues may appear on the list more than once).
Of those, 41 venues across Greater Manchester had more than 100 police call outs and 7 of those 41 premises were in Manchester's gay village: (more…)