As Manchester City Council cuts services and grants to various events, it's essential that the public is able to have an honest debate about what should be funded.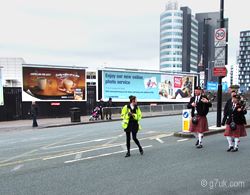 The organisers and City Council exaggerate crowd numbers for this parade enormously, probably by a factor of ten, while the media fail to scrutinise and report accurately.
The photographs below show the true level of attendance at the 2012 Manchester Irish Festival Parade as it passed through the city centre on 11 March.
On the event's website, the organisers claimed: "100,000 people are expected to flock to the city centre and line the three mile route" and that this was "one of Europe's biggest St. Patrick's Day Parades."
Since the parade, they've continued. Claiming that: "Organisers said an estimated 12,000 were packed into Albert Square alone — with more than 100,000 lining the full parade route." See below for more analysis of these figures.
I was first alerted to this last year by a fellow photographer who had gone along and afterwards expressed amazement at the low turn out as compared to the hype. So the small crowds this year aren't anything new…
(more…)