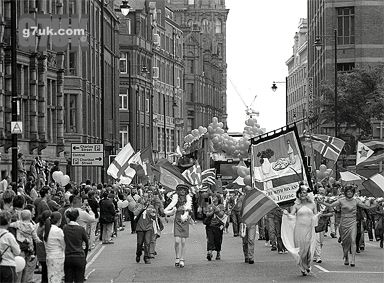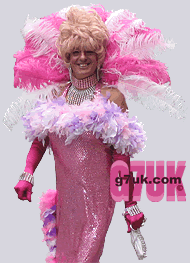 It was the Manchester (gay) Pride parade this afternoon. There are many things that I don't like about this whole weekend. However, I DO like the parade. It's a public celebration of being lesbian, gay, bi, TV or transgendered on the main streets of Manchester and it's free for everyone.
I woke this morning to find grey skies and rain. Again! I think this is the sixth consecutive year that this day has started off with rain. It's not good news if you're taking photographs. And, this year, I planned to shoot some video too.
I got to Victoria Station just as the first people were approaching with the big freedom flag, so I whipped out my digital camera.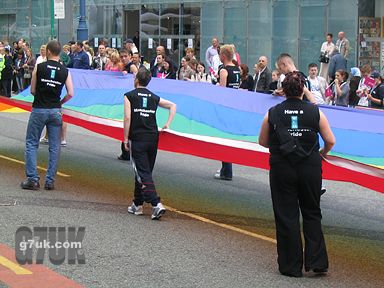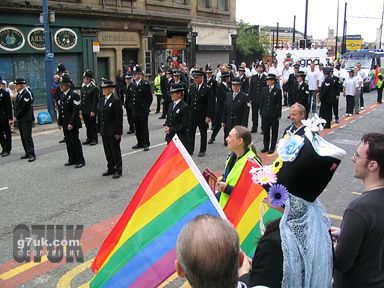 Last year was the first time that gay and lesbian Police Officers were allowed to march in uniform in Manchester and they were out in 'force' again (Police Force - get it?).
Men and women from the Royal Air Force were also marching. The first occasion that any members of the UK armed forces have appeared in uniform on a gay parade. Just a couple of years ago it was illegal to be gay and in the armed forces. Now here is the RAF looking for new recruits at this event! Maybe next year we'll see the Paras?
Here is the Ambulance Service. What a cutie on the right. He can resuscitate me anytime!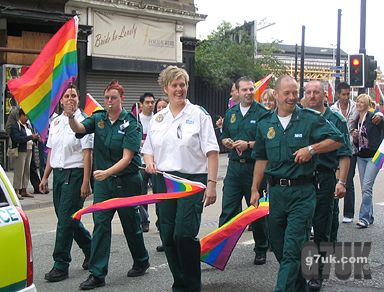 I'd always planned to shoot this whole event on black and white film. As I did back in 2002. So at this point I swapped over to my 35mm SLR for a while. Auto-focus on the digital camera is just too slow for anything as fast moving as this. It delays the shutter, by which time you've missed 'the moment'. And I admit, I'm just totally in love with black and white film and probably always will be!