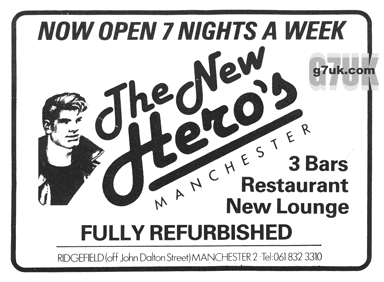 I get tired of newspaper articles that make out that the gay 'scene' in Manchester used to be so seedy and bad years ago, but now it is so wonderful. It just isn't true. Take this article from 2003 which appeared in The Manchester Evening News — a newspaper that can be relied on to regurgitate hype about gay Manchester (just check out contradictory figures in the Evening News for attendance at Pride over the past eight years). Here the Evening News quotes Iain Scott, owner of Taurus bar and restaurant in Canal Street who says:
"The last 10 years have seen the biggest evolution," says Scott. "It has gone from three, maybe four, venues to over 30 venues in the Village Business Association."
There may only have been a handful of venues around Canal Street. But if he is suggesting that there were only three or four in the whole of the city centre, then that is not true at all.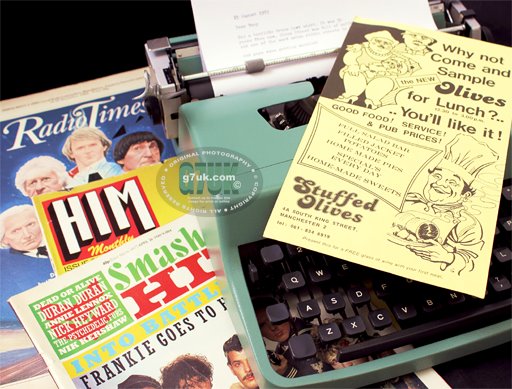 I moved to Manchester in 1982 and in the early to mid-1980s there were the following gay bars and clubs in Manchester city centre: Stuffed Olives, High Society, No1 Club, Manhattan, Rembrandt, Dickens, Napoleons, The Union, New York, Heros, Archway, Thompson's Arms. A quick look at a couple of issues of Mancunian Gay magazine from the time shows some others that I don't remember. The November 1983 mag lists: Why Not? on Ashton New Road and the Egerton Arms Hotel on Gore Street. The May 1984 issue lists Shadows on Union Street (later called El Cid). The June 1985 issue includes Paddys Goose on Bloom Street. I make that 16 pubs and clubs. Not 'three or four'. 'Him Monthly' August 1983 issue lists a leather/denim night every Friday at the Wheatsheaf pub on Camp Street (would you believe?) and there was the Poly gay disco also on Friday nights. And let's not forget the Bloom Street Cafe and Gaze bookshop and Clone Zone which were also on Bloom Street. There were two gay bars that we used to go to in nearby Stockport: The Baker's Vaults and the New Inn.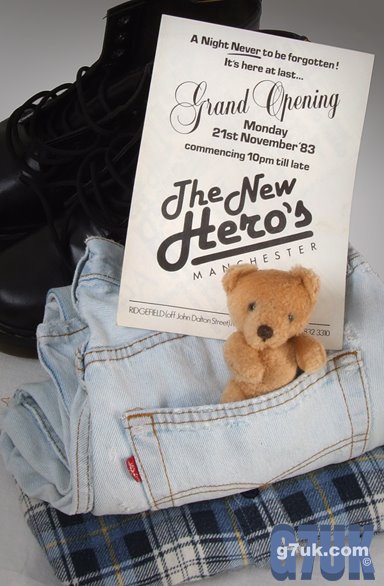 In those days, gay bars and clubs were almost entirely gay. There were no straight boys looking for a fight and no shrieking hen parties. On the whole, people were not on drugs and it was rare to see anyone drunk and incapable. It was really quite civilised and fun. You could enjoy a night out without worrying that you might have your face punched in or drink spiked. Yes it's true you had to knock on the door to get into some places. But that kept out the trouble-makers. These days they are inside the pubs and clubs.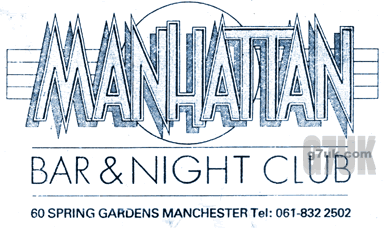 In the 1980s some of the places were in better parts of town: Stuffed Olives and Heros were on the other side of Deansgate to Kendall's department store. Manhattan was in Spring Gardens and No.1 Club was near the town hall. In fact, far less 'seedy' than Canal Street is now.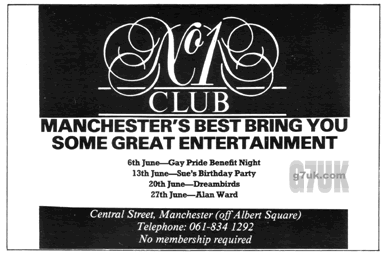 Many venues were gay owned and run (unlike today). There may be double the number of venues that claim to be 'gay' now. But I reckon there are fewer gay men and women out on the scene now than there were in Manchester 25 years ago.
This isn't just because everywhere is now 'mixed', but also because older gay people aren't welcomed by and don't 'fit in' to most places in 2006. Meanwhile, many gay youngsters reject what the scene offers and can socialise perfectly well without it.
Years ago, it really was like a family. You would see senior citizens in The Rembrandt and The Union alongside 18-year-olds. Out on the scene we had friends of all ages and some of the older ones were almost like aunt or uncle figures to us. We valued their experience and advice and enjoyed their company. They cooked meals for us (poor students) and threw the best parties in town.
But where do older people go in the wonderful gay village now, Evening News? Do tell… That public community has broken down and everyone is poorer now because of it.
I would say, in general, there is more ageism, sometime bordering on age phobia (everyone aged over 35 is a paedo — it's a well-known fact!) and perhaps fewer mixed-age relationships because those are less accepted ('what will my mates think?').
However, off the scene, mixed-age LGBT friendships are still very much around. Some of my dearest friends are aged in their twenties. But we rarely meet or do anything on Canal Street. If the gay village, scene and Pride don't welcome everyone, what is the point of them? Are they a force for good or bad?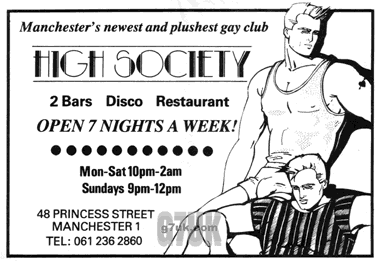 The old magazines also list a number of gay groups that met and there was the Gay Centre in the heart of things on Bloom Street. The 1982 and 1984 issues list two clinics in the city centre area where you could get a sexual health check up. Compared to one today. In those days you could actually walk in and see someone immediately without having to wait up to six weeks for an appointment as you have to now.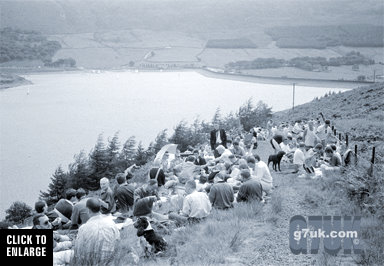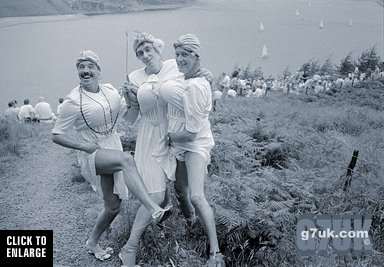 Out, proud and very visible at the Pink Picnic 1990. It was held on a public footpath next to the Dovestone Reservoir at Saddleworth. No fences, politicians, marketing people, police or permission. All the money collected went to good causes.
And as for people not being 'very proud to be seen' until the gay village became over-commercialised and full of straight people in the mid 1990's, with bars like Manto… What a travesty of the truth: tell that to the thousands of men and women who walked around the city centre (not in front of friendly crowds) and then packed Albert Square for the Section 28 rally in 1988, the Liberation '91 march, or who took part in the Walk For Life every year.
They were out and proud on the streets. By comparison, how much courage does it take to go to a 'mixed' bar where you can pretend to be straight if anyone sees you there?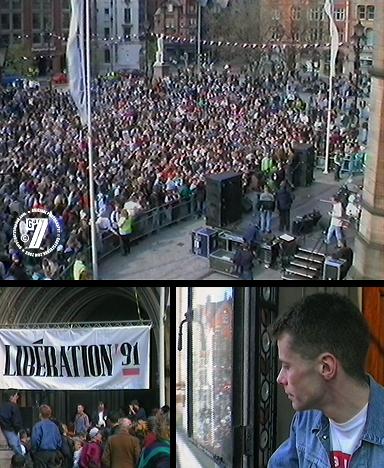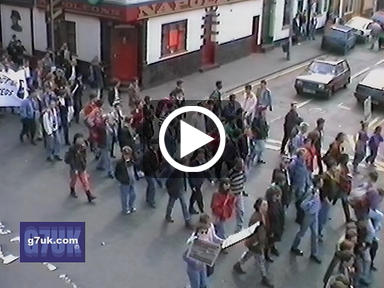 What is there is to be so proud of now? It's all about money, youth, alcohol and hairless gym bodies. Our (non-political) Pride event excludes people who can't afford to pay and the binge-drinking, drug-taking, self-destructive culture which it promotes results in many actually ending up with HIV and needing a lifetime of expensive combination therapy.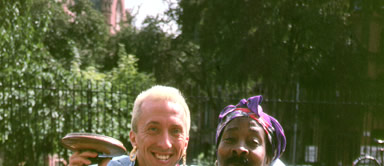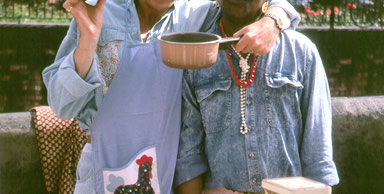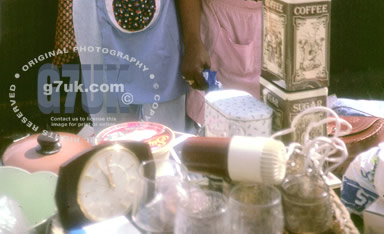 Above: raising money to help the fight against HIV and AIDS at a jumble sale on Canal Street, Manchester, August Bank Holiday, 1990.
Which makes a mockery of the relatively small amount that Manchester Pride raises for charity. In 2006 people with HIV were actually charged to walk in the Pride parade.
Currently, the gay village is something to be ashamed of, not celebrated. We have let big business and the City Council destroy the community that we once had. Meanwhile the same people are behind this blatant rewriting of history because it suits them and their business purposes.
As for Iain Scott's suggestion that in the 1950's 'all' the buildings in the Canal Street area 'were derelict', this isn't true. In a recent episode of BBC's 'Who Do You Think You Are?', featuring David Dickinson, he revealed that in the 1960's he worked in a building on Princess Street opposite the New Union.
There were lots of businesses operating in the area. Photo 1: from 1963, a shot of the site where Clone Zone stands now on Sackville Street. There are two neat little shops that are open for business. On the far right of the block is what is now Napoleons (then a restaurant) and beyond it a church which stood where the Bloom Street car-park is today.
Photo 2: The Rembrandt in 1962. The shoe repair shop next door was still there thirty years later. Photo 3: this picture from 1973 shows a restaurant in the building that is now Thompson's Arms. Photo 4: a cafe and a couple of other businesses at the junction of Sackville Street and Major Street in 1962. This is the street that is between the CIS building and Bloom Street car-park. In all, a thriving area I would say and probably with a wider variety of different businesses than there are now.
UPDATES: small additions were made to this article on 5 September 2009.