Shout out: are you the person who was asked to remove their hooded top for the photoshoot and who refused and was then excluded, or did you witness this incident? I would be very interested to hear your story. Please contact me.
Watch the six minute video (super-widescreen format!). It includes two minutes of exclusive archive footage of August Bank Holiday 1991.
A trailer to embed and share can be found here on YouTube.
The real facts and figures behind Pride can be found here.
Manchester Pride 2008 opened last night. A group of 18 year olds gathered to release a bunch of 999 pink balloons, in recognition of the fact that it is 18 years since the first August Bank Holiday event. Though this year's will actually be the 19th one, because the first was in August 1990! Some reports have incorrectly claimed that August 1991 was the date of the first.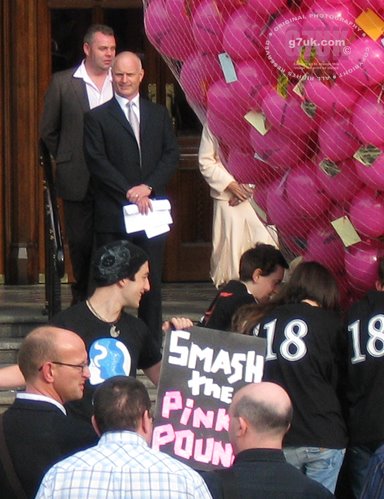 The marketing bubble was popped however when, to the dismay of the organisers, young queer activists surrounded the balloons.
Shocked: Lord Mayor Mavis Smitheman talks with the Festival Director of Manchester Pride
As officials, the city's tourist chief and Manchester's pink-haired Lord Mayor Mavis Smitheman looked on, they unfurled banners and waved placards in protest at the commercialisation of the city's Pride and its lack of inclusion. The messages included:
'Pride as a protest – or pride as a corporate scam', 'too poor to be gay', 'pride not profit', 'smash the pink pound' and 'save the gay centre' (which Manchester City Council seems eager to close).
One of the demonstrators told me: 'it wasn't a negative detraction from what Pride is about. We didn't want spoil anyone's party. We want to be part of the party, that's the whole point'.
This is probably the most high-profile and successful protest in the history of Manchester Pride. So I think it's fair to say the organisers were in shock.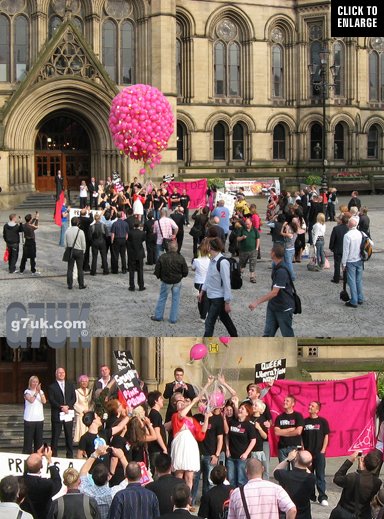 In many respects they've had an easy ride, free of criticism, for years. Mainstream media has been desperate to appear gay friendly (indeed the Manchester Evening News is a sponsor of Pride this year, so expect no criticism or reporting of this protest from them). The Pride organisers have got used to ignoring the concerns that many people have about lack of inclusion and ticket prices.
But now some are tired of letter writing and talking, with no result, and are ready to protest in a more visible (but peaceful) way.
An economic recession could also mean that the days are numbered for this, the UK's only pay-to-be-gay Pride, in its current form.
It will be interesting to see how this event is reported in the mainstream and gay press.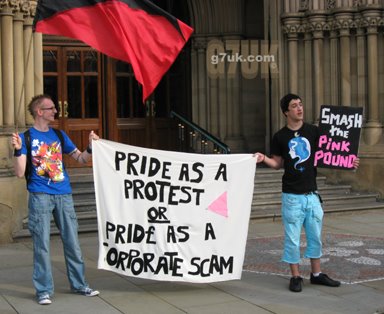 One teenager had come to take part in the balloon launch, only to be told that she couldn't join in because she was unable to remove her hooded top for personal reasons and it would spoil the publicity photos. She was upset about this and so were some of the other young people who were involved in the balloon launch.
Rather than look on this as a golden opportunity to challenge stereotypes about teenagers in hoods, the organisers were more worried about their corporate image.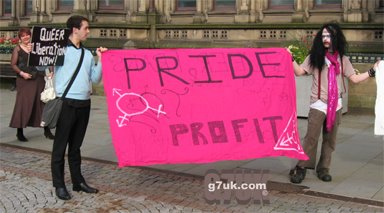 As the invited guests headed into the town hall for the ticket-only reception, Andrew Stokes, the Chair of Manchester Pride and Chief Executive of Marketing Manchester (the tourist board), did stop and talk with the protesters (and me) for several minutes.
He pointed out that running any kind of event in the city centre now costs much more than it did 15 years ago. Undoubtedly this is true, but much of it due to profiteering, bureaucracy, petty nanny-state regulations and politics.
Somehow, Glasgow Rangers fans can party in the city for free and without any fences, but not the LGBT community. So, the question remains why the community should have to fund such a large part of the running costs of Pride by buying a ticket?
Last year Manchester City Council gave the International Festival £2m towards running costs and it was hoped that the city's businesses would benefit from it to the tune of £32m of extra income.
Andrew Stokes is quoted in the press as saying that Pride brings in £17.5m of extra income for businesses each year and the City Council says the figure is £22m. There is NO reason why the LGBT community should fund the running costs through paying for tickets. Some might even question whether there is an element of latent homophobia to this situation?
CHARITY AMOUNTS
In 2007 just 12% of Manchester Pride's total income went to good causes. Looking at the ticket money income alone, about 19% of that went to charity — down from about 30%-35% of ticket money in the Operation Fundraiser days.
With £22m of extra income at stake, does anyone really believe that businesses would stand by and see Pride not happen if it stopped being funded by tickets (ticket sales made up two-thirds of the Pride income in 2007, some £530,000)? No, they would find a way. Every pound that the public gives and that goes on costs, is one pound less for charity.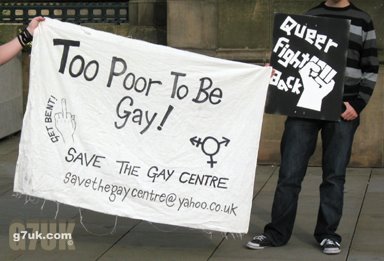 LACK OF DIVERSITY
I couldn't help but notice that every one of the 18 year olds involved in the launch seemed to be white. Much later, after the protesters had sneaked into the town hall with me following, and then had stood outside by the exit talking with people as they left, I realised that I hadn't seen a single Black, Asian or other ethnic minority guest all night. Just dozens and dozens of white gay men (through quite a few were actually a shade of dark orange).
Manchester has a long history of protest and, in the town hall, the demonstrators were treated fairly and with respect by security staff. Though, frankly, inside the town hall, the protest petered out. There seemed to be no plan, the protesters stood around in the upstairs lobby area, with banners folded. Then finally were asked to leave.
18TH ANNIVERSARY
The Pride organisers are keen to capitalise on the '18th anniversary' but today's corporate ticket-only and tourism-orientated Pride is a far cry from those summer days of 1990. Back then, everyone worked for free and the sole focus was on raising money for people who were hit by HIV and AIDS and in particular for the ward at Monsall Hospital that cared for them.
One of my memories is of the staff of Clone Zone (then on Bloom Street) walking round to Canal Street with armfuls of t-shirts and other goods, which were put on tables on the cobbles and sold along with other donated goods and 'jumble'.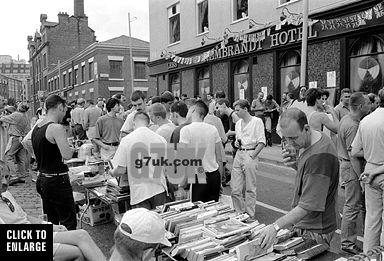 Cynical people (often those who profit very nicely today) sneer and ask 'would you really want Pride to go back to being a jumble sale?'. Of course it was never 'just' a jumble sale. In 1991 the Bank Holiday weekend event received a telegram from the Princess of Wales.
In the year 1994/95, the Village Charity raised £60,000 for good causes (equivalent to about £80,000 in today's money). More than ten years later, in 2006, the current multi-million pound corporate Pride only raised £65,000.
So, if you really care about good causes and funding LGBT organisations, yes maybe a review is in order.
One of the protestors who is interviewed in the video suggests there has been no criticism about Pride from within the queer community in the past. This isn't true. In fact you can read my own seven-year investigation into Pride right here.