Miss Marple lives in the fictional village of St. Mary Mead. The house used as a location in the 1980s BBC series is on Five Bells Lane in Nether Wallop, Hampshire.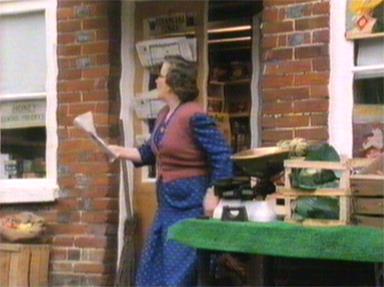 Was the building next to Miss Marple's house a shop at the time of filming or ever a shop? Perhaps it was all a bit of clever set-dressing by the BBC? Today it's a house, but retains the old bread sign on the wall which can be seen in A Pocketful of Rye which was screened in 1985.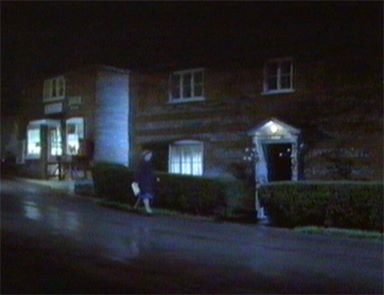 In that story, the shopkeeper tells Miss Marple (Joan Hickson) about the murder of Rex Fortescue and later is seen delivering a newspaper which has further details about the case.
However, looking at the first story in the series — The Body In the Library (1984) — I see the bread sign isn't there. Also at one point there's a brief glimpse of a grassed area opposite Miss Marple's house, which now is occupied by a more modern building.
I would guess that was built in the 1980s when they were still making the series and probably to the dismay of the BBC which needed an English village of the late 1940s. In later episodes the director employs some deft camera manoeuvres to avoid ever showing the opposite side of the street.
For example, in A Pocketful of Rye, as Miss Marple leaves her house and walks towards the shop, she seems to step over something. At first I couldn't figure out what. Then I realised the camera is in that spot at the beginning of the shot, so she is stepping over the metal camera track.
The first shot in The Body In the Library includes an ivy-covered market cross in the foreground. The camera tracks and cranes up from the front of a bus, revealing Miss Marple's home in the background. The cross was another prop courtesy of the BBC scenery department…
Returning to A Pocketful of Rye, in real life the market place is some distance away and doesn't have the covered feature with seats.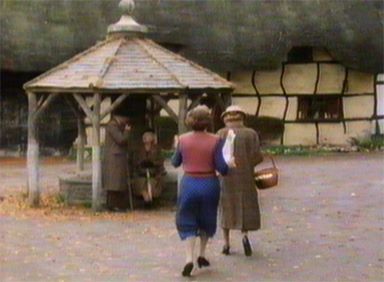 But the church-like building that appears as an infants school is further up the street that Miss Marple walks along.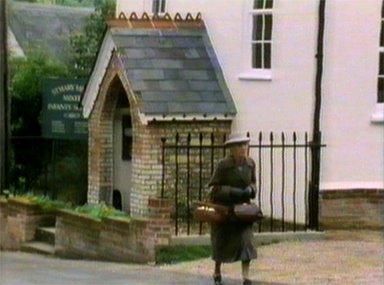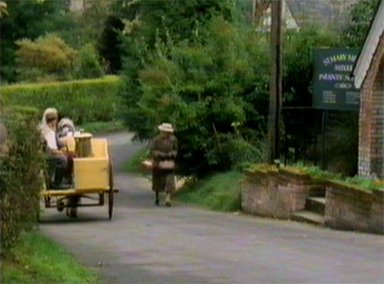 The film-makers shot the scene with a telephoto lens, while the Street View photos are a wide-angle view, so it looks quite different.
Like everywhere these days the place is blighted by vehicles. Then again, Miss Marple is a stylised version of country life that probably never existed. I won't say 'sanitised' because there are an extraordinary number of murders!
Silvio Narizzano, who directed this episode, was the director of the classic 1960s British film 'Georgy Girl'.
Will there ever be a better Miss Marple than Joan Hickson? I doubt it.