I'll begin by saying that I was one of the people who bought "a brick for George House Trust" (GHT) 30 years ago and I still have the pin-on badge.
But that's a long time ago and like so many parts of LGBT Manchester GHT now seems to be rotten and riddled with hypocrisy.
Currently there's a media storm going on involving the venue Bar Pop which itself doesn't deserve to have its name blackened. John, who runs it, is a decent man based on everything I've seen.
Now George House Trust has piped up in a statement on Facebook:
"We would like to support Bar Pop, Manchester's Drag Community and everyone in condemning the recent third party promotion of an event in aid of George House Trust.
"We believe the content was highly inappropriate and damages the integrity of an event that is to honour the memory of Nana, a long-time supporter and advocate of our work to provide services to people living with HIV.
"It absolutely does not reflect our core values and ethos."
Forgive me for laughing… Core values and ethos?
GHT was present at the meeting at Marketing Manchester in November 2002 at which they were told, by the police, that they couldn't charge people to enter public streets that were closed to vehicles under a traffic order. Here is a full copy of the minutes of that meeting (PDF). See the bottom of page two.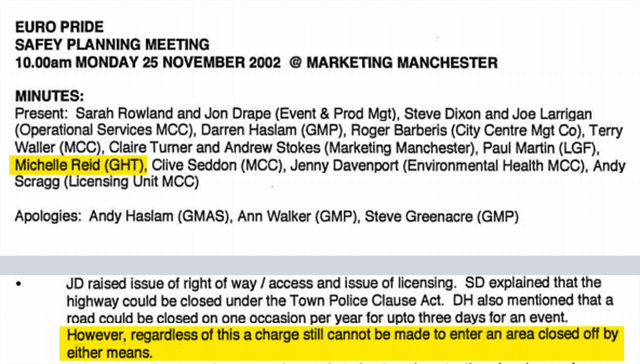 Despite this, all concerned did exactly that every August Bank Holiday weekend from 2003 onwards. GHT was involved in running the wristband scheme under the umbrella organisation Operation Fundraiser, from 2003 until 2006.
Those involved in the Manchester Pride event continued to ignore the law, mislead and charge the public until April 2015 when the Local Government Government Ombudsman confirmed that what they were doing was unlawful.
Over a ten-year period, members of the public who only wanted to walk on the pavements, to have a wander or reach premises (homes and businesses), and who didn't want to attend the pop concert, were illegally blocked or charged. Wristbands to the value of probably hundreds of thousands of pounds were sold under false pretences.
Where were your values and ethics then GHT?
Incredibly residents were told that Manchester Pride had the power to "grant" or block access to their homes within the gay village. One gay man had his civil partnership ruined when Pride's guards blocked his guests from reaching his own home to attend the reception. This was despite him having agreed access for them beforehand with the officious Manchester Pride.
The man moved from the gay village and says this experience was part of the reason why. This one story shows the awful effect this had on people.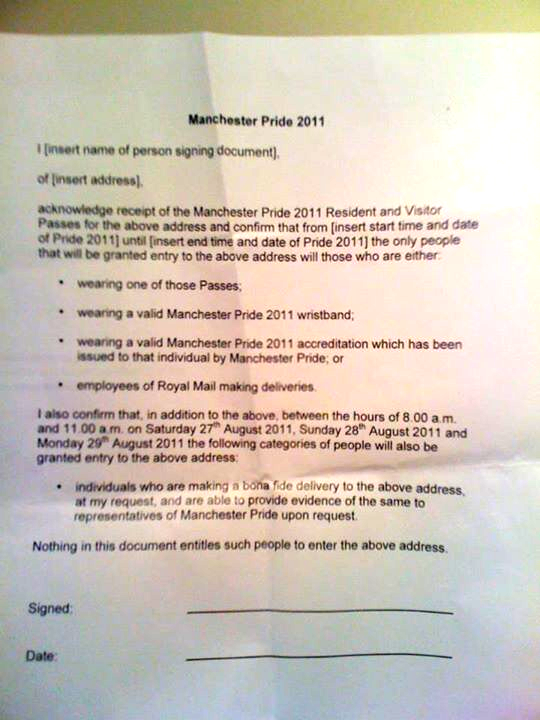 Homeless people were illegally blocked from reaching their support centre on Bloom Street all weekend.
Here's video of a partially-sighted gay man who had done absolutely nothing wrong being assaulted by Manchester Pride's security on a public street (a criminal offence) while police officers watch and do nothing.
Where were your values and ethics then GHT?
As part of Manchester Pride, GHT organised the Monday night HIV/AIDS Vigil. If they didn't buy an expensive wristband, the family, friends and partners of people who had died from AIDS were forced to queue on the street outside the gates. They were told that if they didn't turn up early, they might not get in. This led to worry and distress. Some stood at the gates for more than hour. Sometimes in the rain.
Others were misled into paying just to attend the Vigil and despite the community having been assured that it would always to be free to attend. Despite complaints, including to Tony Lloyd the MP for Manchester, this happened year after year. The organisers didn't care. This is an insight into the sort of people who are behind Manchester Pride, GHT and other organisations in Manchester.
When interviewed on video in 2007 and 2008 people were emotional. Upset at being treated with disrespect as they tried get into the Vigil to pay respect to their loved ones. Humiliating them in this way was cruel and making them stand outside the gates like second-class citizens (at a "pride" which is supposedly about equality) was illegal as they had every right to walk on the pavements of the gay village.
Where were your values and ethics then GHT?
And where did the money go from this? Each year 25% of the Pride "charity fund" — what was left after "costs" — went to GHT. Yes this registered charity benefited financially from law breaking which it helped to organise.
Where were your values and ethics then GHT?
In 2013 an HIV+ gay man was kicked and punched in the face by a woman at the Vigil and dragged out by police. The same police force that ignored the wristband scam for a decade and which receives a payment of tens of thousands of pounds from Manchester Pride every year for policing. The man had been protesting about the service he had received from GHT.
Whatever your view on the appropriateness of a protest at the Vigil (and remember the stage has been used as a political platform by Labour politicians on a number of occasions) no one deserves to be physically assaulted at this event. Let alone an HIV+ gay man. GHT seems to have done nothing about this incident which was hushed up and not reported by the media.
Where were your values and ethics then GHT?
You may like to reconsider any support for George House Trust until it issues a public apology for all of the above.