2005 Video |>|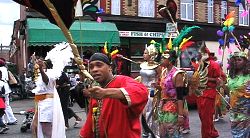 Watch my video of the 2005 parade here. You'll need broadband.

Links
(external websites)

BBC Caribbean: including coverage of the Trini Carnival.

Media Player Classic: tired of bloated video players? I can recommend this free one.

Real Alternative: if you don't want to install Real Player, try this. It's a much-smaller and more-friendly alternative which plays Real audio and video and doesn't take over your system (6Mb).

Codec Pack: install the K-Lite Mega Codec Pack (18Mb) and you'll be able to play just about every video and audio format around. It also includes the player mentioned above.

VideoLan: another great free player. Though not for playing online video.

Comments



Let me know what you think. Contact info is here.
Photo Gallery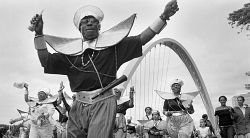 Here are my black and white photos of the 2004 parade.
Info



It's Saturday 24 July 2004 and a colourful parade winds its way through Moss Side, Hulme, Whalley Range and back to Alexandra Park. 'Empire' was the theme of this year's event.
There were two Caribbean carnivals in Manchester this year. A few days before this one, the City Council Visitor Information Centre assured me that there was most definitely NOT a Carnival happening in July!
Luckily I didn't believe them and later discovered the City Council was sponsoring the other carnival which took place in August... But my friend Kingsley was fuming because he didn't take time off work because of that information and missed it.
Anyway, this is the Carnival I've been to before and, compared to some of the other events that happen in Manchester, it's freshingly non-commercial and lots of fun. Noisy too -- the microphone on my camera almost had a nervous breakdown!


By following it around the whole route, I managed to shoot a video and some black and white photos. Hope you enjoy.