I called the City Council tourist information service the other day and they assured me there was definitely no Caribbean Carnival in Manchester this weekend. Luckily I double-checked and found they had given me wrong information.

'K' wanted to go. But unfortunately by then it was too late for him to take time off work. It seems the City Council is 'sponsoring' a second Caribbean Carnival in a few weeks time. Funny how they didn't know about both of them...

In previous years the parade has passed close to where I live. So I thought I 'd wait until I heard it and then walk along with it back to Alexandra Park. But, after more than an hour, there was still no sign. So I set off to the Park.

I got there to find that the parade hadn't even started off. I said to a Policeman that I thought it was meant to be setting off almost two hours earlier. Somewhat wearily he said he thought so too.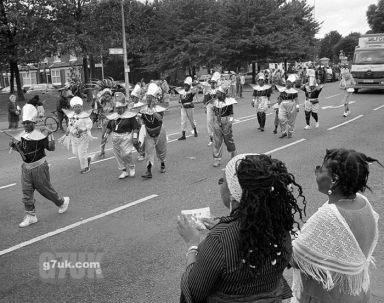 Finally it did get going on a slightly-reduced route. I followed it round, shot some video and mainly black and white stills which you can see here.