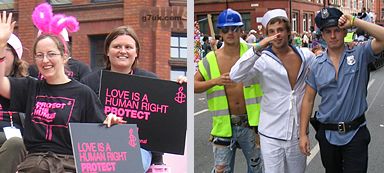 At 2pm this afternoon it was the annual Manchester Pride parade through the city centre. For the first time in years, there was no rain!



BROADBAND VIDEO:

Manchester Pride 2005. The beginning of the Saturday Pride parade includes acrobats, stilt walkers, muscle boys, freedom flag, emergency services, 'Wizard of Oz' line dancers.

PLAY: | 400k | 800k |



A pretty good parade this year. I shot about an hour of video and a few photos.

UPDATE:

One video clip up as you can see. Two more to finish and add to the page. Coming soon!

GET IN TOUCH


My contact information is here.