This is the main stopping off point for new stuff. The blog, video-blog or whatever you want to call it. More... But also see the latest in the left column.
Over the years I've got together a great set of programs that work well for me. More...
EVENTS
My audio recording of the Police With Pride discussion event. It happened on Wednesday 21 August 2013 at Manchester Town Hall and the the subject was relations between police and the lesbian, gay, bisexual and trans communities.
Video from Manchester's annual picnic by the lake, in Platt Fields Park, Rusholme.
LOCAL HISTORY
Fire on Oldham Street, Dobbin's drapers and general outfitters
Another small part of Manchester's heritage went up in flames on 11th April 2013 when a former department store caught fire on Oldham Street. And a timelapse video shows the smoke from a further fire on the same street three months later.
The end of the Oxford Road Show
Back in 1956 when the BBC decided to build new studios in Manchester, the famous Oxford Road site wasn't the Corporation's first choice. And it would be another 19 years before New Broadcasting House opened. This includes photographs of the demolition of the Oxford Road building in September 2012.
Robert Rose was a black man of some wealth from Salford. He was a poet and vice-chair of a literary group in the 1840's. They met at the Sun Inn on Lower Millgate, opposite Chetham's School.
Robert Stephenson — buried in a churchyard in Eccles
Civil Engineer and a native of Northumberland. Brother of George.
Why the University of Manchester at Whitworth Street may be haunted
Halloween special: it's 1909 and nothing stands in the way of Manchester's universities and their expansion. Not even a graveyard that has only been there for 89 years...
In 1889 the Union Bank in Didsbury was robbed at gunpoint by a man who seized handfuls of gold and ran off. But he didn't get away with it.
Putting swine flu into perspective
3,000 people died in Manchester in the flu epidemics of 1918/1919. At the time, the population of the city was more than 425,000 and it was heavily polluted with poor living conditions.
Manchester then and now: Sackville Street, St. Luke's Church & Chorlton On Medlock
This fascinating area was at the heart of the industrial revolution.
TV show Most Haunted claims that a Granada TV studio is built on the site of an old graveyard. But is it really?
VIDEO MAKING
The Speaker of the US House of Representatives has infringed the rights of a music composer.
A home-made windshield for the Zoom H2 recorder
How to make your own 'dead cat' windshield for this popular portable audio recorder.
Why relatively few good videos get made
Despite the great advances in digital technology.
MANCHESTER
Manchester's luxury apartments
The 'regeneration game' conveyor belt screeches to a halt leaving property owners in the lurch. But owners from a previous boom aren't too happy either.
Right-wingers stoke Islamophobia in Longsight churchyard planning mystery
A look into claims that a Manchester churchyard has been desecrated.
LGBT
Crime in and around Manchester's Gay Village
A list of crime incidents since 2011. Including the Ancoats canal area. Please tell us of any we've missed.
Freedom of Information request reveals scale of police call outs to Manchester's gay village venues (video)
Greater Manchester Police supplied a list of 4,079 pubs, bars and clubs they had been called out to in 2011-2012.
Canal Street - August Bank Holiday Monday 1990
My black and white photographs of the jumble sale on Canal Street in August 1990. This is how the Manchester Pride that we either love or loathe started off.
Few other images exist of this event.
The original Manchester Pride investigation
For the last seven years I've been researching, writing about and challenging our over-commercial Manchester Pride event.
Raising awareness about the spin and inequality that lies behind it, the profiteering by businesses and the small amount that goes to charity (just 12% of the total Pride income in 2007).
My main Pride investigation page includes links to many other pages on my site and elsewhere online and many original facts, figures and quotes.
Don't believe it when people say there was no protest or criticism pre-2008. In fact there was a public meeting of concerned people as long ago as Autumn 1999 following the Mardi Gras of that year.
As of September 2013 there's a new forum about this at FactsMCR.com. Come and post your thoughts on the matter!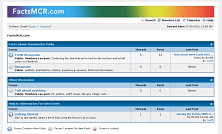 How a fake descendent of the Russian Tsar fooled gay Manchester in 1991 (video).
Cruising crackdown prompts call for a 'tolerance zone'
How things have changed! The City Council and LGBT organisations now collaborate with the police to demonise men who choose to meet in public places rather than in the gay village and gay saunas (video).
Lesbian & Gay Foundation: the beginning of the end?
The employment tribunal reaches a decision, Outnorthwest magazine is slashed in a funding crisis, 62% of the annual income goes to pay 23 employees. Read more. Or see the 2007/08 accounts here. Including a cost of £61,589 to generate voluntary income of £100,736!
Also: LGF is awarded £121,165 from a hardship fund (Nov 2009).
The gay love story behind the classic 1960's BBC TV series. A special article for LGBT History Month.