I shot these photographs exactly twenty years ago today, on August Bank Holiday Monday 1990. This is how the Manchester Pride that we either love or loathe started off (although the word 'pride' wasn't used in the name until 2003).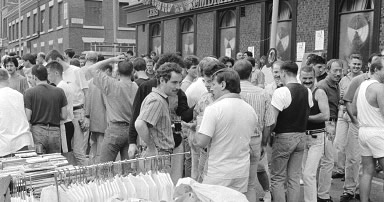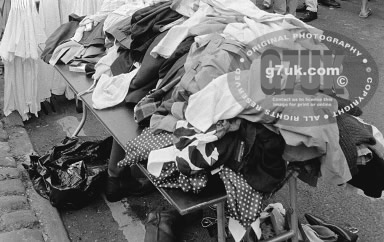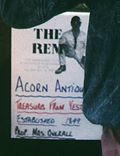 Back then, the sole aim was to raise money to help people who were affected by HIV and AIDS and in particular for the ward at Monsall Hospital where they were looked after.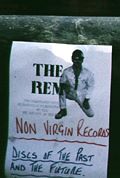 That first weekend was organised by several of the business people. I remember staff from Clone Zone walking round from Bloom Street (the shop was in a basement there in those days), their arms piled high with t-shirts and other items to be sold on the tables on Canal Street. I still have some of the items that I bought that day, including a red t-shirt with 'there's nothing quite like getting it' written across it.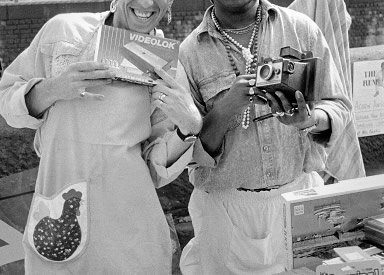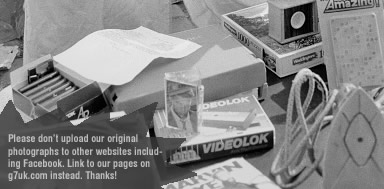 They can tell I like cameras and video equipment! It was rare to see anyone black or asian on the gay scene in those days. I believe the man in this photo was a member of staff at the Rembrandt.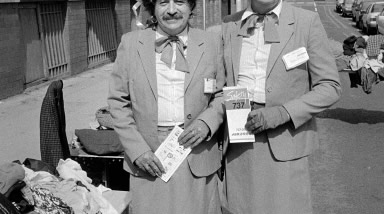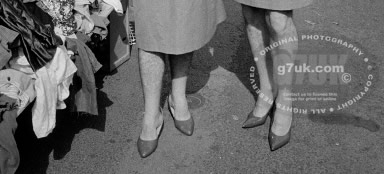 Word had spread about the drag act that Harry and Bill (two friends of ours) did at their parties and they were persuaded to appear at the Rembrandt on Bank Holiday Monday. Bill told me he had been an officer at Greater Manchester Police and, if my memory of that conversation is correct, he was in the vice squad!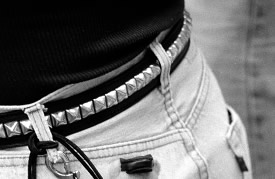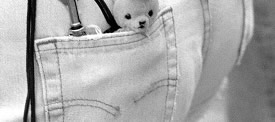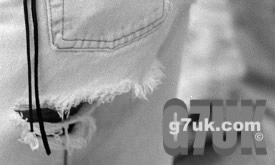 In 1990 we had own unique fashion styles. Gay men and lesbians who dressed in this distinctive way were immediately recognisable to others. Whereas the general public were clueless about it on the whole.
Some men favoured Levis 501's that were heavily ripped and there was a craze for putting a teddy bear in the back pocket along with keys on a clip. Black Doctor Marten's boots and shoes were popular, as were denim or leather biker jackets. Checked-shirts, which had been worn throughout the 1980's, were still going strong for both men and women and MA-1 bomber jackets were just beginning to be seen.
Those who dared wore cycling shorts. Probably in black. Although sometimes white ones which left nothing at all to the imagination. In some ways things felt more liberated and outrageous than now and looking 'different' was just accepted. Maybe because there had been three decades of extreme changes in fashion? Sometimes I think the 1960's lasted for 30 years and this was the tail end of it!
Strangely, in the mid-1980's, the lumberjack look with checked-shirts, Levis 501 jeans and moustaches was extremely popular among straight men in Newcastle — my hometown. We found this very amusing when visiting.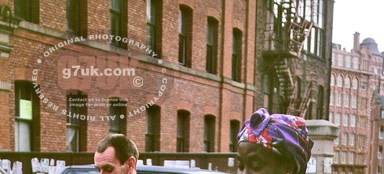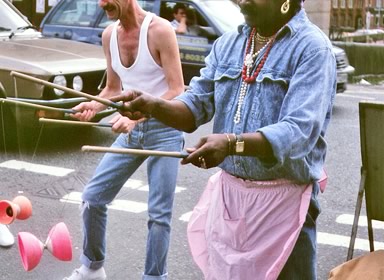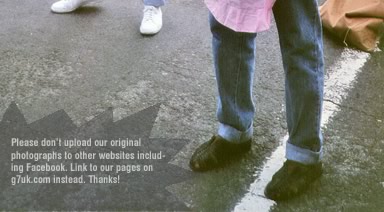 Some of today's gay profiteers dismiss what happened in 1990 as 'just' a jumble sale and ask 'would you want to go back to that?'. I'm not sure whether it was 'just' a jumble sale on the Monday in 1990 but that was the only part I photographed.
Cameras weren't particularly welcome around LGBT events and venues in those days and that is one reason why there is so little evidence of what happened in the past. A situation that suits those who now aim to rewrite history for their own purposes. Certainly, by the following year (1991), it had turned into a weekend of events (the 'Carnival of Fun') and received a telegram from Diana Princess of Wales.
The Village Charity was launched in Autumn 1990 and in the financial year 1994/95 raised £60,000 for good causes (equivalent to about £115,000 in today's money).
Although Manchester Pride is now a gigantic event, with costly tickets and it brings in £17.5m of extra income for Manchester's businesses each year, it barely raises any more for good causes than it did fifteen years ago and that's a disgrace. Read more and see vintage video and flyers from 1991 on my Manchester Pride investigation page.
My perception at the time was that in launching this August Bank holiday event Manchester was in some respects playing 'catch up' to smaller places such as Huddersfield which, by then, had been raising money from the Pink Picnic for several years.
Stay tuned for two fabulous and quite outrageous videos of the Pink Picnic from 1990 and 1991. Coming soon.
And if you've been led to believe that we were all in the closet, creeping from one darkened bar to another in the dead of night until the uber-capitalists and marketing people came along to exploit us circa 1995, some of this media from the old days is going to come as a bit of a shock!
About the photos
Back in 1990 quite a bit of my income came from work as a freelance photographer and I carried a camera with me wherever I went (I still do). Black and white was still the preferred format for many magazines, so that was the film stock I had in my main camera with some colour slide film in another.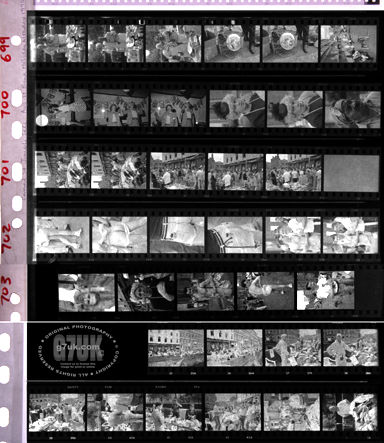 I only took a couple of colour pictures and shot about forty black and white frames. However ten of those were on the tail-end of a film and, for some reason, I didn't process it at the time. I did the film processing myself in those days and likely I was too busy with work.
So the film stayed in a black plastic bag and was forgotten about until eleven years later when I decided to process all the odds and ends that were lying about. What a surprise to discover more images of the Bank Holiday event. Unfortunately, by then, some light had got to the film and those ten frames have a slight 'solarised' effect (below).



I still love black and white film. Removing the colour from a digital image doesn't give anything near the same result.
I doubt there are many other images of this event. There may be none. Even snapshot cameras were bulky in those days and most people didn't think to take them along. And, as already mentioned, cameras were only just beginning to be tolerated on the gay scene.
Due to my work, I was fortunate enough to have access to cutting-edge home video equipment (latterly Super VHS-C). At the time, camcorders were expensive and still rather cumbersome. So, again, carrying one was a bit of a chore and something that few people could be bothered with on a day out.
That same summer I shot stills and video of the Huddersfield Pink Picnic and video of New Year's Eve at the Greyhound pub — also in Huddersfield.
The following year, 1991, I shot stills and video of the Liberation 91 march. While I concentrated on video for the Walk For Life, August Bank Holiday in the gay village, the Huddersfield Pink Picnic, the Christmas Costume Ball at Manchester Town Hall and again New Year's Eve at The Greyhound.
These films and photographs are a unique record of an exciting time.
Unexpectedly, in February 1992, I moved to London to take up my dream job. So my coverage of LGBT events in the north-west came to a halt for five years. When I returned I was horrified…
UPDATE (2015)
I've now established beyond reasonable doubt that several other black and photos are of a jumble sale on Canal Street in 1989. Also I've uncovered news coverage about a regional "Pride North" in June 1986. This included a launch buffet in The Rembrandt and a fun day in Sackville Park. I'll post more about these soon.