The first part of last Saturday's Manchester Pride parade.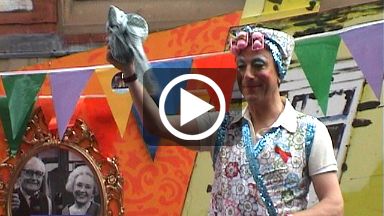 I'll put up the rest when I have time. Editing and encoding long clips takes ages!
The parade was led by a Coronation Street float. Later this year the soap will celebrate its 50th anniversary. Funny to see the vintage female characters played by drag queens… Apparently Tony Warren, the original creator and writer of episodes in the early days, based some of the dialogue for the women characters on conversations he had heard between gay men.
Usually there are several parade entries that stand out. But not so much this year. Far too many just walk along in t-shirts or pink wigs waving freedom flags. Nor does it seem to come down to the size of the organisation and the resources it has. It was obvious that the Pankhurst Centre had put in time and effort making costumes and decorating its float, while people from the giant Co-op walked along with ten huge banners, each advertising one of its services (the last being funerals).
Over the years efforts have been made to stamp out anything political or 'too' sexual. But entries that are no more than massive 'in your face' advertising are fine it seems. There were two brief but heavy downpours during the parade.
I was standing on a small step ladder, next to the Hogs Head pub on Deansgate, filming the parade, and happened to put my hand on my hip to relieve the weight of my rucksack which was full of photo equipment. At this point two men to the left of me began singing 'you're a little tea pot'. I laughed this off and asked them if they were both gay but then they began shouting abuse at people in the parade.
Something about 'easy access'. Then 'hello sailor'. The George House Trust float had a steel band and one of the men shouted: 'this is not Jamaica – f___ off' followed by 'f___ off, f___ off, f___ off'. A man in the following parade entry was called a 'queer f___er'.
I've removed this audio from the soundtrack in the video above. But you can listen to it here:
I got their faces on camera.
This spot was just on the other side of the John Rylands Library from the extreme Christians who were shouting and waving banners. Manchester City Council has announced it may try to ban the Christians next year. I have mixed feelings… I believe in freedom of speech, but also I wonder if the Christians encourage bigots like the two who were standing next to me?
I first moved to Manchester in 1982 and started going out to gay venues the following year. From then until 1998 I wasn't abused in the street like this once. In recent years, every time it's happened has been in and around the gay village or during Manchester Pride or its predecessors and it's becoming more regular. In fact it's only a few weeks since the last incident which I reported to the police.
I've been filming gay events in Manchester since 1991 and this is the first time I've had to remove racist and homophobic abuse from a soundtrack. It's sad and somehow I don't think things are improving. While families line the streets and enjoy the parade, LGBT people are being abused. It's time we got the priorities right.
If you experience an incident please report it to the police so it will be logged and counted as a hate crime and don't be fobbed off by officers on the street, which is what they tried to do to me a few weeks ago.