I understand that residents in Manchester's gay village area have mounted a legal challenge over the closure of streets during the annual Manchester Pride 'Big Weekend'. Since 2003 the area has been fenced off over the August Bank Holiday — from Friday evening until the early hours of Monday morning.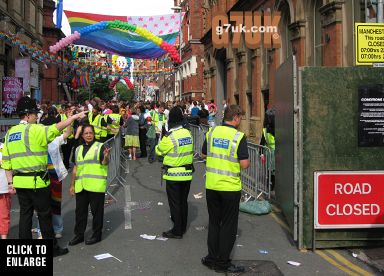 Information about this is sketchy and hard to come by at the moment and I'm told that enquiries by one local journalist were blocked by the Manchester City Council legal team which refused to release any details about the legal challenge.
It seems the gates surrounding the gay village didn't close until 20.00 hours on Friday night this year, instead of 18.00, and some people have suggested that could be connected to the legal action.
This legal challenge could be just one cloud in a storm that's gathering for alcohol-related businesses in the Canal Street area.
The coalition government has pledged to crackdown on binge drinking and anti-social behaviour. It has promised to give residents much stronger powers to object to the licences of 'problem' pubs and clubs being extended or renewed and they will be able to object if they feel their area is being turned into a 'no-go zone' at night.
In its manifesto it says it will 'overhaul the Licensing Act to give local authorities and the police much stronger powers to remove licences from, or refuse to grant licences to, any premises that are causing problems' and it will 'permit local councils to charge more for late-night licences to pay for additional policing'.
In fact word reaches me of a series of incidents between the police and various venues during Manchester Pride.
One had outside seating blocked and was threaten with closure by the police. Another was told to remove an outside bar and table that was selling drinks. All bars were ordered to closed their doors and windows at 23.00 each night and a member of staff at one venue was cautioned by the police for using a microphone after the 23.00 cut off time.
So is the party over? No doubt there are some venues that are happy to attract as many 'revellers' as they can (I saw a depressing post on Facebook from a woman who was planning to have her hen party at Manchester Pride). While others would prefer to turn back the clock to the days when the village was a safe space for LGBT people. But is the latter possible and how would it be done?
Bad behaviour at night is common in towns and city centres across the country nowadays, but any street that is entirely made up of businesses that sell alcohol is going to tend to become a trouble spot. So perhaps it's time steps were taken to create a real 'village' down there with a mixture of different businesses?
Left to its own devices, I doubt 'the market' will ever do that. But if the businesses don't manage to clean up their act soon, the decisions may be taken out of their hands.
Personally I'd like to see a no-alcohol space somewhere in the area. Slightly away from the main streets and open late with coffee, soft drinks, decent (non junk) food at low prices, wifi and maybe computers that people can use for free. Somewhere without loud music and trouble, where people of all ages can meet and socialise. I even wonder if local authorities should be encouraged to provide this if the market doesn't want to? There's a real need for it in Manchester.