It's Lesbian Gay Bisexual Trans History Month.
If you grew up in Britain in the 1960s or 1970s then you probably remember the 13-part series Robinson Crusoe on BBC Television. This French production was shown many times between 1965 and the early 1980s, often during school holidays.
Featuring handsome Robert Hoffman, people remember the programme for the music, which was composed by Robert Mellin and Gian-Pero Reverberi, and for the distinctive dubbed English language narration. However most would be hard-pressed to name the actor who spoke those words and even fewer know of the love story behind the screen credit.
By the mid-1980s, political correctness was taking hold at the BBC and some people were unhappy about the portrayal of Man Friday in the series. Some of this criticism was justified. Friday is portrayed as a cannibal and in one 'humorous' scene he encounters a talking parrot for the first time.
Years later, this scene would be satirised in an advertisement in which Friday gains the upper hand and cooks the bird.
Also the series had been made in black and white.
Apparently someone at the BBC decided that Robinson Crusoe wouldn't be shown again and, with a complete disregard for what this series meant to a whole generation of people, the reels of 35mm film were destroyed. Exactly when this happened is unclear. But a large amount of archive childrens' TV — including Play School, Rentaghost and Vision On — was disposed of around 1993.
Soon after, it emerged that the French company that had made the series had long since gone out of business and, for a while, it looked as if the BBC had disposed of the only surviving English-language copy. Fortunately, later, 16mm prints were discovered in a French film archive and these inferior quality copies are what we are left with today.
In an ironic twist, the BBC had come close to destroying some of the best work by a man who represented the complete opposite of racism and intolerance.
THE NARRATOR OF ROBINSON CRUSOE
Robinson Crusoe was made in 1964 and the english language narration was recorded by a white American called Lee Payant.
In the early 1940s Payant was a struggling actor in New York. There he met a fellow actor — an African American man called Gordon Heath.
Heath was not a man to hide his attraction to other men. In fact he was 'overtly homosexual' according to those who knew him.
In his autobiography 'Deep Are the Roots: Memoirs of a Black Expatriate', large parts of which you can read at Google Books, he describes how he wooed the target of his affections with poetry and coffee.
Eventually Payant stopped playing hard to get and they ended up being a couple for 30 years. Heath always called him by his full christian name: Leroy.
By all accounts, Gordon Heath was by far the more successful of the two. He was New York's first African American radio announcer and played many roles on radio, often white characters, with audiences none the wiser.
In 1945 and 1946 he appeared in one of the top ten Broadway plays of the season: 'Deep Are the Roots', directed by Elia Kazan, and also starring Barbara Bel Geddes (who later played Miss Ellie in 'Dallas').
Audiences were shocked to see a black man on stage with a white woman. At this time, in some US states it was illegal for a married heterosexual couple to share a bed if they were of different races. Even in New York theatre land the oppression must have felt absolutely stifling for Payant and Heath who were of different races and in a same-sex relationship.
PARIS
After a fourteen-month run on Broadway, the production moved to London's West End, where it again received critical acclaim. After this, Heath and Payant decided they wouldn't return to the United States and settled in Paris instead.
There, the two of them became co-owners of a club called L'Abbaye and, for nearly three decades, they entertained audiences by playing guitar and singing duets of folk songs. They released a series of records.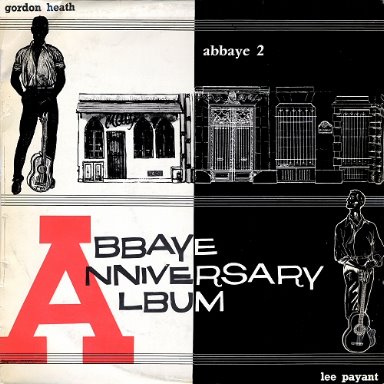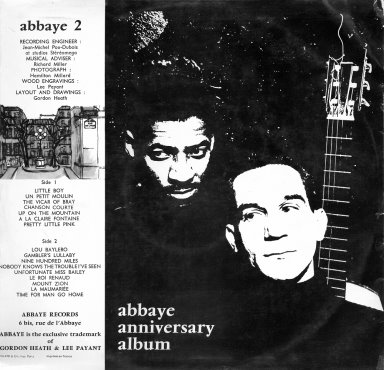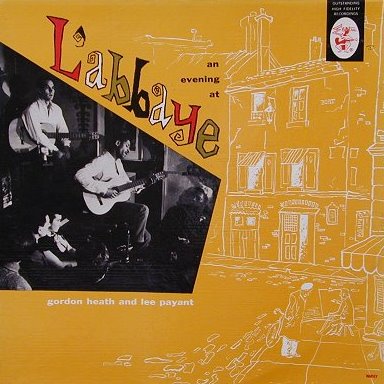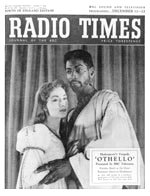 BRITISH TV & FILM
Gordon Heath performed in the theatre in Britain and appeared in plays and other programmes on BBC Television and Radio.
'Deep Are the Roots' and 'The Emperor Jones' were both first performed on radio and then as plays on television a year or two later. On 15 December 1955 Gordon Heath reprised his stage role as 'Othello' in a BBC Television production that was directed by Tony Richardson and he featured on the front cover of Radio Times magazine.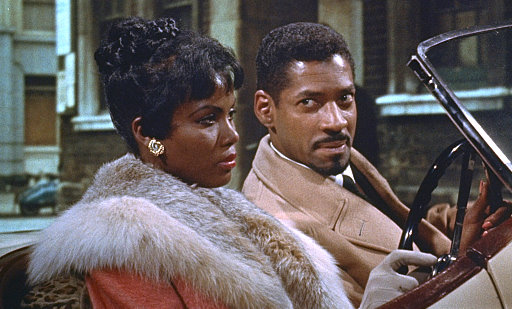 Gordon Heath in the 1959 film "Sapphire".
A rare film appearances was as a 'dandy' in 'Sapphire' — a 1959 crime drama based around racial tensions in London's Notting Hill. He also narrated the British animated film 'Animal Farm' (1954). Lee Payant provided character voices in 'Asterix et Cleopatre' (1968) and the two of them dubbed many films together.
Leading roles in films didn't materialise for Heath and it's easy to guess at two of the reasons why. However when, finally, I managed to see "Sapphire" I was surprised by how theatrical his performance seemed. Perhaps not ideal for the medium of film? To the modern eye the latter part of his appearance is spoilt by some rather poor back projection too.
LOCKED AWAY
Recordings of some of the TV plays may not exist — either because they were broadcast live or the tapes were later wiped or junked by the TV companies. But many of these 1950s productions remain locked away in the archives.
Isn't it ironic that we are denied the chance to see the work of black actors who took the only roles that were open to them 50 years ago: often exploring themes such as racial hated and mixed marriages, in productions that were filled with uncomfortable attitudes, the kind of words that squeamish television executives don't want to screen now and yes sometimes an approach that is flawed from a modern perspective.
Discriminated against during their careers and now denied a screening. Consequently we are unable to watch most of Gordon Heath's performances. But here he is in a tiny role as a postman in the 1969 film 'Staircase'.
Even this gay-themed film is never seen on British television nowadays. Probably because having straight actors playing campy characters in an argumentative gay relationship, one of them awaiting a summons from the magistrates court for "cottaging", doesn't fit the modern agenda. The last broadcast on terrestrial TV seems to have been on Channel 4 in 1992. Nor is the film available on DVD.
It's tempting to think that Gordon Heath might have taken this role because of the groundbreaking (for the time) gay storyline of the film. But it turns out that it was shot in Paris because Richard Burton and Rex Harrison didn't want to fall foul of Britain's punitive tax regime at the time.
Heath was a local in Paris and no doubt knew the Caribbean accent only too well, as his father was from Barbados.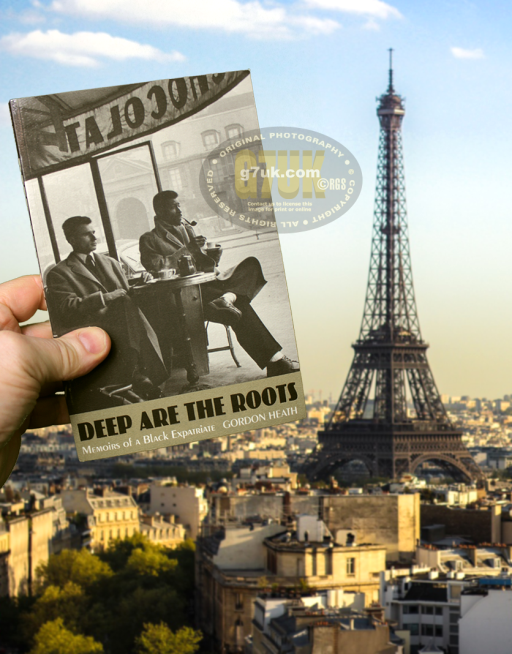 Gordon Heath's autobiography. Photo of Paris courtesy of Richard Ley.
ALONE
In December 1976 Lee Payant died from cancer. He was only 52 years old. Anguished, Gordon Heath couldn't face being in Paris alone and moved to the United States, where he spent five years acting and directing. But eventually he returned to France and met a new partner there.

Sadly, as with so many gay histories of the late twentieth century, you can guess the ending to this story. In 1991 Gordon Heath died in Paris due to an AIDS-related illness. He was aged 72. Some newspaper obituaries, such as the one published by the Chicago Tribune, mentioned Lee Payant but not that they were gay and partners.
But once you know this story and listen again to Lee Payant's moving and passionate narration as Robinson Crusoe, you can't help but smile. Above all you wonder what might have been going through his mind as he recorded it, considering his own relationship.
'It's been months now since I was shipwrecked on a desert island where I took refuge, the only survivor of the wreck. I've been able to live since then by struggling for my life each day, in a solitude that's not without its advantages. There is no war, no epidemics and no talkative women.'
To finish here's the ad spoof from 2004 which is for Nestle Rolos. The end slogan is "do you love anyone enough [to give them your last Rolo?"
LINKS
About the Robinson Crusoe TV series
UPDATES
1 July 2017 – photo from "Sapphire" added and more information about that and Heath's BBC Radio and TV work.
20 February 2019 – a collection of letters, articles, photographs and cuttings about Heath and Payant at the University of Massachusetts Amherst and a list of his papers held.
And an article about Gordon Heath's appearance in the BBC's Othello.
Added the TV advertisement from 2004.