I was in Eccles today. The trains back to Manchester only run every hour so I had some time on my hands before the return journey. I ended up looking around the churchyard of The Parish Church of St.Mary the Virgin in Eccles town centre.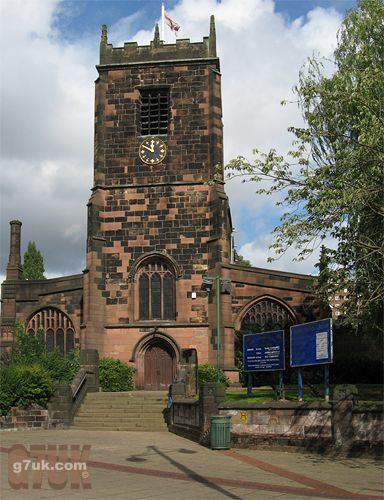 Most of the headstones were cleared in the 1960's and the churchyard was grassed over, but some remain near the church. I don't know if they are in their original position or were moved there.
Suddenly I spotted this inscription on one:
'In memory of Robert Stephenson. Civil Engineer. Native of Northumberland. Who died 15th February 1837. Aged 49 years.'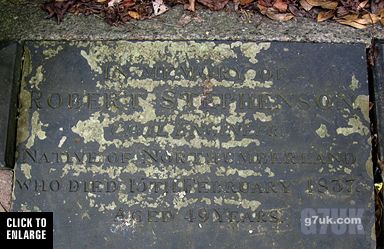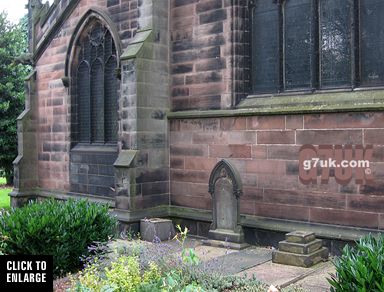 Being something of a history geek I was so excited that I called over a couple who were browsing the headstones too. As my accent has faded to almost nothing after several decades living in Manchester, I was surprised when the man asked if, like Robert Stephenson, I was from the north-east.
At this point I thought the headstone must belong to the son of George Stephenson. George being the famous railway engineer who built the Liverpool and Manchester railway. Back home, I looked up some information.
In fact the grave belongs to George's less-well-known brother, who was also called Robert.
The more-famous Robert Stephenson (the son) died in 1859 and is buried in Westminster Abbey in London.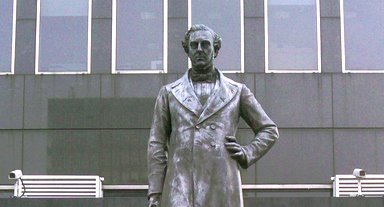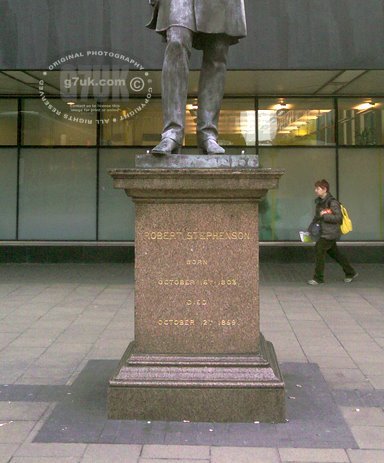 This statue of the better-known Robert Stephenson stands outside Euston Station in London. Photo date: February 2012.
George Stephenson, his son and brother drove three of the seven locomotives that ran at the public opening of the Liverpool and Manchester railway on 15th September 1830. Large crowds turned up and about six hundred people were onboard the trains. However gloom descended over the event when William Huskisson, the Member of Parliament for Liverpool, was run over by The Rocket while standing on the track chatting with the Prime Minister — the Duke of Wellington. He was rushed to Eccles aboard one of the locomotives but died soon after.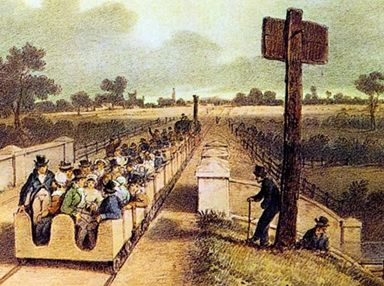 The opening of the Liverpool and Manchester Railway in 1830 from a painting by A.B.Clayton, 1830
Then when the trains arrived at Manchester, with the various distinguished people onboard (including the Home Secretary Sir Robert Peel), disgruntled mill workers pelted them with bricks. The intended reception was cancelled and they headed back to Liverpool.
As I travelled back to Manchester I was on the very same line. However the journey was much less exciting than that one almost 180 years ago.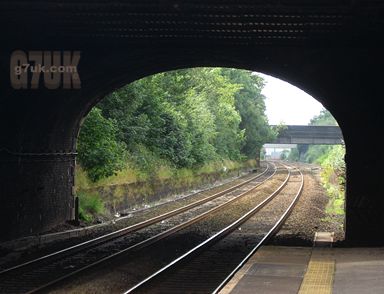 EXTERNAL LINKS
Lots more information about the Stephenson family and the public opening.