An exclusive video clip that has never been published before.
It's the evening of Monday 26th August 1991 and Manchester's 'Carnival of Fun' weekend is coming to a close. Of course, this is the forerunner of the current Manchester Pride.
In those days before the 'no-money-left-for-charity' scandal of 1999, the event attracted the support of some big names. Princess Diana sent a telegram wishing every success in 1991 and there was a buzz that someone important might make a surprise appearance on the final night.
So the list of big name well-wishers had been read out and speeches were being made. Sure enough, a royal person was introduced: His Serene Highness Prince Romanov. An exiled descendent of Russian Tsar Nicholas II, who was murdered along with his wife and family in 1918.
His Highness had agreed to be one of the trustees of the Village Charity and all week had been working 'just as hard' as the ordinary folk.
The following January, All Points North magazine wrote an article about him. But, in the February 1992 issue, they revealed that they had been conned and printed the results of their investigation. He was a fake and was indeed just a 'regular queen' who had a long history as a confidence trickster.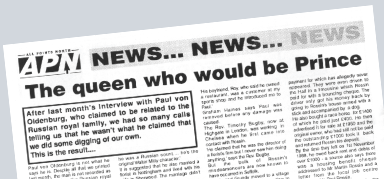 The Telegraph reports on the latest DNA evidence which seems to solve the mystery of what happened to the Tsar's family. It concludes that none survived. The article notes that since 1918 'about 200 people have claimed to descend from one or other of the Romanovs who had somehow survived the slaughter in the basement of Ipatiev House'.
Correction (27 Jan 2019): the article has been edited because, following research, we know now that 1991 wasn't the "second Carnival of Fun" as originally stated. The jumble sale goes back further than 1990 and there were other gay events in the mid-1980s. The name Carnival of Fun was probably only used in 1991 — the year the August event became much bigger, after the creation of The Village Charity around the beginning of that year.