Crime in and around Manchester's Gay Village
A list of reported incidents. The most recent first.
Don't believe the marketing spin about "vibrant" night life and a safe area for LGBT people. Manchester's gay village has been in decline for many years (some would say since the mid 1990s). It is now at crisis point and is actually a very dangerous place. Please be careful.
This list is incomplete.
June 2018
Driver denies trying to murder man who shouted homophobic abuse at him in Manchester's Gay Village
It's claimed he was called a "faggot boy" by the man he ran over and that the man had also verbally abused a woman. This seems to be the incident which occured in March 2017, mentioned below. Another journalistic fail by the MEN which states just "Sunday, March 26".
"CCTV footage showed Mr McDonald accelerating and driving around the car before hitting the man, who he had argued with earlier, the court heard. Jurors heard the collision caused the man to roll up onto the windscreen, which smashed. The car continued and Mr McDonald applied the brakes, which caused the man to fall to the ground, the court was told. He then proceeded to run the man over, the court heard." Manchester Evening News. Article date: 19 June 2018.
May 2017
Manchester's gay village continues to see staggering levels of serious reported crime.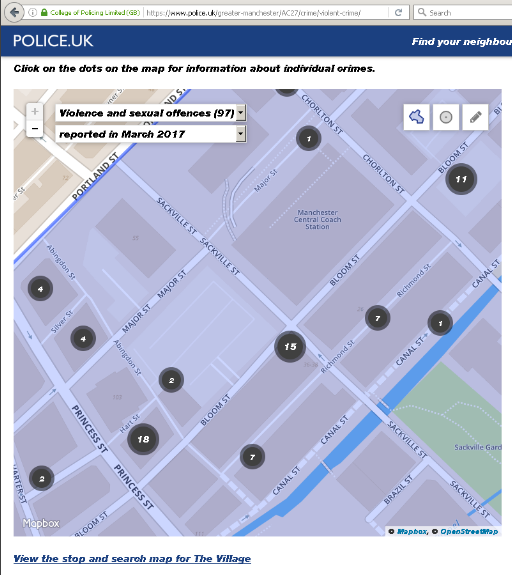 The police crime maps for March 2017 show 61 reported sexual and violent offences immediately around Bloom Street and Canal Street.
In 2015 the media reported that Bloom Street was the joint 15th most crime-ridden street in England and Wales. Nothing is being done. A Freedom of Information request shows there are no prosecutions of businesses that serve alcohol to people who are already drunk. However when it comes to policing, Greater Manchester Police is not the only force which fails to enforce the law on this.
We see endless articles about how LGBT people have higher than average mental health issues. Hardly surprising when there are 45-60 reported sexual and violent crimes every month in Manchester's gay village area. Each involving at least one victim with possible longterm or life-long consequences. That is some 600 victims a year and how many incidents aren't reported because victims feel it is pointless?
Twenty-five years ago this was a relatively safe area and one serious incident would cause an outcry. Today there is a shameful conspiracy of silence between the politicians, funded LGBT organisations and businesses. But there is always endless energy to point the finger overseas or focus on what the Tories did 30 years ago.
September 2017
In the early hours of 2 September 2017 a man was assaulted and robbed at knifepoint on Richmond Street. A "good samaritan" came to his aid. However it became clear this person was probably one of the same gang who had robbed him and was trying to obtain information. His cards were used in several shops immediately after the incident. From the times and places it was clear the thieves must have been in a vehicle. Despite that and those shops being near empty at that time in the morning (making it easy to spot the perpertrators) the police apparently made no effort to look at CCTV to identify them and solve the crime. There have been multiple other muggings and a stabbing around Richmond Street since.
March 2017
Man seriously injured after being driven over in hit and run in Gay Village. The driver of the car crashed into the male who is understood to be in his mid 20s, along with another female, and drove off. The pair were rushed to hospital where the male was in a serious condition. The woman suffered non-serious injuries. Manchester Evening News. Article date: 26 Mar 2017.
MORE TO ADD FOR THIS PERIOD.
December 2015
A man was glassed in the face after refusing to go home with another customer in Eagle bar, on 12 December, according to a post made on Facebook.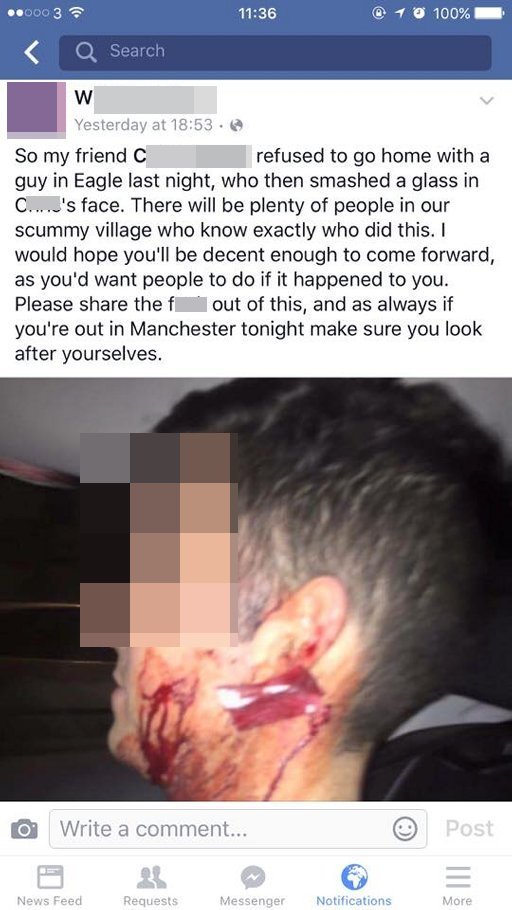 Gay village doorman attacked with a timbersaw. "The 20-year-old kicked off after being refused entry to a bar in the Gay Village, and after leaving the area returned a short time later with the timbersaw. And after the doorman suffered a cut to his head in the vicious attack, the man was arrested by officers on suspicion of assault." The incident occurred at 1.30am on 10 Dec 2015. Manchester Evening News. Article date: 10 Dec 2015
Woman "attacked Gay Village clubbers with broom handle after taking legal highs". She befriended a man and the woman on Canal Street, took them home and then attacked them after one of them groped her. Manchester Evening News. Article date: 1 Dec 2015
In a public post on Facebook a woman claimed that she had been assaulted by a member of staff at a named takeaway on Bloom Street. She wrote that she had reported the incident to the police. The post was then switched to private, so subsequent details are unknown.
November 2015
CCTV appeal after woman raped on Manchester city centre canal footpath during night out. "Horrific incident near to Manchester's Gay Village."
"After becoming separated from her friends, she was approached by a man as she stood outside the AXM bar before walking with him down Whitworth Street and onto Princess Street. The pair then walked onto Attwood Street at the side of the multi-storey car park and then onto the entrance to the canal path before he raped her." Manchester Evening News. Article date: 17 Nov 2015
44-year-old man gang raped and robbed on Bloom Street in Manchester's Gay Village. Note how the article headline and first paragraph state "near Piccadilly Station." When in fact it happened on Bloom Street -- one of the two main streets that make up the gay village. This is typical of the damage limitation operation that all seem to be onboard with. The Independent. Article date: 10 Nov 2015
October 2015
Man knocked unconscious during brawl in Manchester's Gay Village. "The victim, 20, was attacked on Bloom Street, next to the NCP car park," shortly after 3.30am on the morning of 23 October 2015. Manchester Evening News. Article date: 23 Oct 2015
August 2015
"Two teenagers were knocked to the ground and beaten during a brutal robbery in Manchester's Gay Village." One of the victims was stamped on as he lay helpless on the ground. The attack, by a gang of four, happened between 4am and 4.45am on Tuesday, August 4. Manchester Evening News. Article date: 21 Aug 2015
A solider has avoided jail after attacking two men on Canal Street in Manchester's gay village. Earlier he had spat in a woman's face and slapped her across the face in an unprovoked attack. 9 August was the date of the incidents. Manchester Evening News. Article date: 2 Oct 2015
June 2015
Man goes berserk in Gay Village pub and attacks two bar staff. At New York New York on Bloom Street he attacked two bar staff and damaged a £1,000 window after being asked to take his drink inside. He also punched another customer in the face. Again note how the Evening News doesn't describe the violent man as a customer of New York New York even though he was drinking outside it and was asked to go in with his drink. However one of the victims IS described as being a customer. The date of this incident is unclear. Manchester Evening News. Article date: 16 June 2015
Mobile phone photo sparks vicious glassing attack at New Union pub in Manchester's Gay Village. An incident on 7 June at the New Union pub. Note how the Evening News describes the victim as a "pub patron." However at no point are the two attackers described in similar terms as customers. They are "offenders", "two men". The agenda is that thugs are disruptive "others," not gay village customers who are being served alcohol and then turning violent.
Man attacked in Gay Village says he is reluctant to return following shocking assault - he was knocked unconscious and suffered injuries to his head and face during an unprovoked attack near Sackville Gardens. Manchester Evening News. Article date: 2 Jun 2015
April 2015
Gay Village barman violently attacked and subjected to shocking homophobic rant - this actually happened on Daisy Bank Road in Victoria Park, about two miles from the gay village. Manchester Evening News. Article date: 18 Apr 2015
Body found in canal at Ancoats - despite not even knowing the identity of the man, according to the news story, within two-and-a-quarter hours Greater Manchester Police had concluded "there are no suspicious circumstances surrounding his death" and "speculation on causes would not be helpful to investigation or next-of-kin." The article includes a timeline of other deaths. Manchester Evening News. 18 April 2015
March 2015
On 19 March the landlord of the New Union woke to find a man kicking the door and smashing the windows. He was shouting "gay bastards." When the landlord put his head out of the window he faced homophobic abuse. After he reported it, the police came and asked "what do you want us to do about it?" By chance, the landlord spotted the man heading past RBS towards the Olive Deli. The police caught him as they were in a van but had let him go by the time the landlord arrived on foot. They claimed the CCTV people had said it "wasn't him." They would have only had to hold the the man for a couple of minutes until the landlord arrived to identify him. It emerged that their shift was finishing 15 minutes later.
The woman owner of a bar in the gay village was attacked by two men near her venue. They dragged her by the hair. She was left with broken ribs, cuts and bruises, a lump on her head and with ripped clothes.
February 2015
Man dies after being pulled from canal in Manchester city centre - "emergency crews were called to a stretch of water off Dale Street, near Piccadilly Station, at around 2.55am." Manchester Evening News. 5 Feb 2015
January 2015
Manchester canal 'serial killer': Spate of 61 deaths in city unlikely to be caused by accidents only, warns psychologist - there was an enormous amount of coverage worldwide after an academic suggested that a serial killer might be at work around Manchester's canals.
October 2014
A terrifying attack on the evening of 31 October in Piccadilly Gardens. Two gay men were on a tram going into Manchester. They were approached by a man who made several threats and abused them. At Piccadilly Gardens he followed them off the tram. He shouted to a group of 15 others who began beating up one of the gay men severely.
August 2014
Four arrested after man left unconscious in Canal Street attack - four men have been arrested after a savage attack in Manchester's Gay Village. It has been suggested that the owner of a village bar who is also a trustee of Manchester Pride was part of one of the groups that was caught up in this. Manchester Evening News. Article date: 18 August 2014
May 2014
Manchester gay village bar owner jailed after sexual assault on sleeping man - Sentenced to 27 months in prison after pleading guilty. Crime & Justice. Article date: June 1, 2015. Manchester Evening News story here.
February 2014
Bogus taxi driver raped woman, 43, after luring her into his car on Canal Street - at 2am on 16 February "the man pulled up alongside the woman near to Bar Pop as she headed to a cab rank on Canal Street, and said he was a taxi driver." Manchester Evening News. Article date: 16 February 2014
December 2013
Five arrested following stabbing outside city centre lap dancing club - a man was stabbed on Bloom Street car-park. Curiously the Manchester Evening News seems to have missed a number of facts about this. We understand that the man was stabbed multiple times and was an off-duty or former doorman in the gay village. He just happened to be walking across the car-park and had no connection to the fight at the club. Manchester Evening News. Article date: 10 December 2013
November 2013
Two men in fetish clothing who were waiting for a taxi on Richmond Street in the early hours of the morning were brutally beaten up. Reportedly one required a brain scan and the other had teeth kicked out. The media did not report the incident.
September 2013
Man sought over transgender community attack in Manchester - the victim was grabbed around the neck, but the attacker was disturbed by friends who came to their aid. BBC News. Article date: 18 October 2013
August 2013
An HIV+ Asian gay man was punched in the face by a drunken woman during the Manchester Pride HIV/AIDS Vigil. He had been protesting about the service he had received from George House Trust (GHT). He was then kicked by a man as he was dragged out of Sackville Park by police.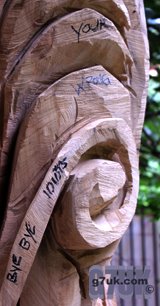 Vandalism of the transgender remembrance memorial in Sackville Gardens, in August 2013.
A former village bar owner intervened and said she would take up his case with GHT. However she changed her tune when she discovered that the drunken woman was a friend. She then set about demonising the protestor instead, saying that he probably only did it to get compensation!
Whatever you think about the rights and wrongs of protesting at the Vigil, there can be no excuse for physical assault and this marked a new low for Manchester Pride -- an event that was created solely to raise funds for HIV/AIDS. The media did not report the incident.
Transgender Remembrance Memorial vandalised - the memorial in Sackville Gardens, which had only recently been finished, was vandalised. Brass name plates were damaged and graffiti written.
March 2013
Man found dead in "dirty and unhygienic" H2O sauna - the sauna manager admitted people coming in from clubs were known to use drugs. The Telegraph. Article date: 8 Jan 2014
February 2013
Bisexual asylum seeker taxi driver jailed for raping men - he was sentenced to seven years in prison for raping men in two separate incidents. Victims were picked up in his taxi in Manchester's gay village. Pink News. Article date: 19th February 2013
September 2012
Muggers targeted cerebral palsy sufferer as he waited for taxi in Gay Village
No incident date and time reported. Manchester Evening News. Article date: 14 Sep 2012
June 2012
A man was found dead in the canal near Canal Street shortly before 1.50pm on Saturday 9 June 2012. Death was confirmed as by drowning and the man had no injuries. However the police said they hadn't ruled out a link to other recent incidents.
At around 1.10am on Tuesday 5 June 2012, a 54-year-old man came across a fight on the canal towpath close to Piccadilly. A number of people were attacking others. The man shouted and was himself attacked, being hit and pushed into the water. After getting out of the canal he was attacked again by the same group and left unconscious.
Later that morning, at around 2.35am, a 41-year-old man was robbed of his mobile phone on the same towpath. After he reported this incident to the police, three men were arrested on suspicion of robbery.
August 2011
Big Issue sellers murdered transvestite and hid body in a suitcase while they claimed his benefits - police began an investigation after a body was found in a suitcase in a filthy flat in Openshaw. The following June, two Big Issue sellers -- one a regular beggar on Canal Street who claimed to be homeless -- were convicted of murder. Daily Mail. Article date: 13 June 2012

Crime figures
Bloom Street was named as the joint fifteenth "most crime-ridden spot in England and Wales" in June 2015. The village area has regularly been the worst part of Manchester city centre for violence and sexual offences, since the monthly police crime maps were first introduced in December 2010.
Some 45-60 violent or sexual crimes are reported to the police every month. Some crimes never make it into the local news media. An unknown number aren't reported to the police in the first place.
There is anecdotal evidence of village business people persuading staff and even loved ones who have been assaulted not to report the incident to police to keep the crime figures down.
In 2013 a Freedom of Information request revealed the scale of police call outs to gay village venues. Greater Manchester Police supplied a list of 4,079 pubs, bars and clubs they had been called out to in 2011-2012 (some venues might appear on the list more than once). Of those, 41 venues across Greater Manchester had more than 100 police call outs and 7 of those 41 premises were in Manchester's gay village.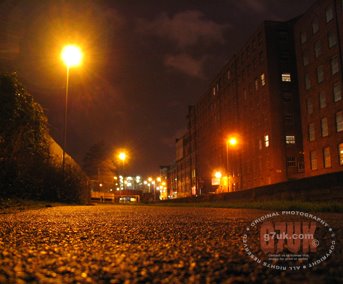 The cruising ground around the canal at Ancoats is regularly described as "dangerous" by politicians and the so-called community leaders of the gay village. Yet it's mainly around the bars and clubs of Canal Street where we see 45-60 violent and sexual crimes happen every month. Some people ask whether this demonisation of cruising, which can't be commercialised and so is seen as unnecessary and a nuisance, is just another attempt to drive people into expensive bars and saunas where they can spend. In the past it was accepted that it was commonsense to keep your wits about you when cruising: be sober, alert and discrete. Now some men are loud and drunk, draw attention and create danger for all.
Matters are made worse because the canal is now more of a residential area. However, the canals have been around for nearly 250 years and cruising on them may date back that far too. While sex in public view is illegal and unpleasant for others, gay men who only wish to meet and talk to others are entitled to do that, just like everyone else. And it isn't illegal to have sex outdoors if it is hidden from other people.
Present day dangers tend to stem from lack of personal responsibility and the way alcohol businesses operate. And there is more public awareness about cruising and where it happens. One answer is to tackle the drink culture and business practices when it comes to alcohol in the city centre, putting people before profits.
On the streets
Some police officers also seem keen to persuade members of the public not to pursue a complaint. While stunts such as rainbow painted police cars appear at pride events and singalongs happen on trams.
There have been so many accounts of police officers persuading members of the public not to proceed with a complaint that some people feel it is pointless mentioning anything in the first place. During Manchester Pride 2014 and again in 2015 police officers walked away from people who asked for assistance as Pride's security guards unlawfully blocked the pavements.
The Police were known to take bribes from gay bars in the 1960s, according to some sources. Reg Kilduff who ran the Rembrandt pub is said to have told someone that the police were in the bar and he didn't know whether to give them money or whisky. We assume that doesn't happen these days, but the unwillingness to tackle the alcohol and drug-related crime seems odd...
The first Police Commissioner, in 2012, was Tony Lloyd the former Labour MP for the area. He is now the unelected interim mayor for Greater Manchester.
The city of Manchester is effectively a one-party state. Every councillor at Manchester town hall is (New) Labour and the current government is about to hand over further powers on health and policing. Frightening...
Opinion
These problems are caused by business practices. Also due to licensing laws apparently not being enforced by the police, who may be under political pressure not to spoil the "party." For example it seems that people who are already drunk are routinely (and illegally) served more alcohol.
"Sticking plaster" solutions such as fences around parts of the canal will not prevent the tragedies. These tactics are designed to keep the gravy train on the tracks for a little bit longer.
People are dying and experiencing life changing violent and sexual assaults because of commercial greed and cronyism between politicians, businesses, police and the media.
TACKLING THE POLICE, POLITICIANS & THE GREEDY
25 years ago any one of these crime incidents might have resulted in a noisy demonstration outside the town hall. But local politics and protest have been sidelined in Manchester's LGBT community.
Stage-managed police-friendly events are staged by the likes of the LGBT Foundation. There's an eagerness to look at problems abroad -- in Russia or the USA -- or in the distant past such as the Tories and Section 28 to distract from awkward questions about what is happening on their own doorstep right now and why.
Should officers of Greater Manchester Police be banned from the Manchester Pride parade until these issues are tackled?
BENEFITS FOR BUSINESS
Perversely in one way the high crime has been a godsend to the village businesses. They were able to use it as a justification to (unlawfully) fence off the area during Manchester Pride for many years. This gave them a captive market that could be exploited more ruthlessly (even taking in a bottle of water was forbidden). Yet other events such as Sparkle! take place unfenced.
Tickets provide an income of more than £700,000. These days nearly all of that is spent on Pride running costs, with hardly any going to good causes (the original purpose of the event). This is effectively a public "benefits" hand out to businesses.
Going by a news item in BOYZ magazine from 1996, the village businesses contribute substantially less than they did in the past. Yet there are many more businesses in the gay village now than there were in 1996.
The one time "safe space"
The marketing hype is that LGBT people in Manchester have never had it so good. They would have you believe that 25 years ago we were all creeping from one darkened bar to another in fear, "knocking and asking for Dorothy."
The truth is that gay bars and clubs were spread right across the city centre during the 1980s (and earlier). Heros and Stuffed Olives near Deansgate, Number One near the town hall, Manhattan at Spring Gardens, Dickens on Oldham Street, Archway on Whitworth Street West... We would walk between them during the evening and in those days many of us dressed in a distinctive gay style (501s, denim, leather jackets). We were "out and proud". Perversely the bars and clubs were integrated into the entire city centre in those days and they are in a "gay ghetto" now. Ever more so too, with the loss of Legends (AKA Rockies) recently.
Crimes were rare and any incident would cause an outcry. Personally I came out on the Manchester gay scene in 1983 and went out to gay bars and clubs in the city regularly for much of the next nine years. I never saw a fight or other trouble in a gay bar or club. They were safe places.
I didn't experience a homophobic or violent incident on the streets either. Until one night around 1996 when we were pelted with bottles as we left Cruz 101.
By then the bars and clubs had almost all been coralled into what was being called the "gay village." Business people had used "equality" as an excuse to open the doors to money from the 94%+ of the population they had missed out on in the past. The heterosexual men and women who weren't allowed into gay bars and didn't want to go to them anyway...
There had always been a small number of straight women in particular who liked to go to gay venues because there was no trouble. They were well-behaved and welcome. But in the mid-1990s the doors were flung open and the decline started. You can hear people complain about the influx in this Channel 4 programme from 1996 but nothing was done about it.
The days of gay and lesbian customers being well-behaved are over too. They also cause trouble now. We've thrown away the very special mature culture that we had on the gay scene.
Now decent LGBT people are deserting the gay village in their droves and, given the paralysis of those who are in control, and fear of income falling even more, it's difficult to see how the area will be saved. It's becoming an irrelevance; to the older people who have left in disgust and the younger who see no need for it.
Increasingly, those who remain seem to be the most extreme people who can't fit in elsewhere or move on from constantly "celebrating" with a drink in hand.
Many young people probably think it has always been like this and has to be accepted. That's a tragedy. We need to get the message across that it was not and does not. The situation has been created.
Contact
If you know of an incident we've missed, contact us here.
Links
Manchester Crime & Criminal Justice.
UKCrimeStats - this link goes to the page for the Canal Street postcode M1 3HE.
Police crime maps - this link goes straight to the page for violence and sexual crimes in the gay village area. Incidents are mapped to nearby streets. Zoom in to see more detail.