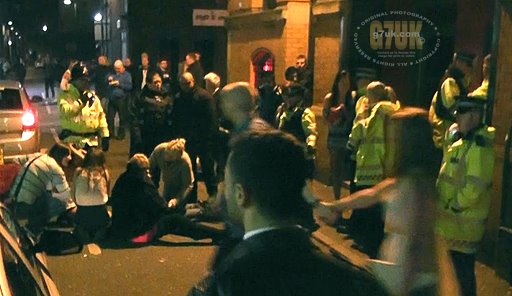 The early hours of 13 January 2013. A still from the video footage which you can watch below. As I recorded this on Richmond Street I was physically assaulted by a man who took a swipe at my camera. He was bleeding and I was left with his blood over my hand and the camera. I'm sure the police saw this but they did nothing. Another person who was filming had his shots deleted from the memory card by police officers after they bundled him around the corner. Guidelines from the Association of Chief Police Officers (ACPO) warn that any police officer who deletes a photographer's images could face criminal, civil or disciplinary action.
A Freedom of Information request has revealed the scale of police call outs to gay village venues.
Greater Manchester Police supplied a list of 4,079 pubs, bars and clubs they had been called out to in 2011-2012 (some venues may appear on the list more than once).
Of those, 41 venues across Greater Manchester had more than 100 police call outs and 7 of those 41 premises were in Manchester's gay village:
AXM Late, Bloom Street: 170 call outs
Baa Bar, Sackville Street: 110
Churchills, Chorlton Street: 102
Cruz 101, Princess Street: 123
New York New York, Bloom Street: 236
The New Union, Princess Street: 188
Thompsons Arms: 152
New York New York had the fifth highest number of police call outs in Greater Manchester (236).
The four premises with even higher call-outs were also in Manchester city centre: 5th Avenue on Princess Street (542), Tiger Tiger at the Printworks (496), Revolution on Deansgate (295), FAC251 on Princess Street (269).
You can see the full FOI request here.
For some reason the HTML (web) version cuts off at letter G in the list and not everyone can open an Excel spreadsheet. So I have put up HTML and text versions here.
I didn't make this request and don't know the person who did, but I'm sure you'll agree it's interesting.
The pubs and clubs have made the point that sometimes incidents happen nearby and are tagged with the name of the nearest venue, despite that business having nothing to do with the incident. Also that people tend to head over there late when places elsewhere in the city centre close. Some to pick up a taxi.
Nevertheless, this is an indication of the scale of trouble in the gay village area for whatever reason. How sad that what used to be a LGBT safe space has reached this point.
Time for a clean up?
VIDEO
Javascript is required for videos. You seem to have it disabled.
UPDATES
Bottle-attack takeaway ordered to shut at 11pm – Manchester Evening News (15 Feb 2013)
Booze-fuelled revellers 'could kill Gay Village in five years' – Manchester Evening News (2 April 2013)
"Enough is enough" – bar bid for 5.30am licence is rejected – Manchester Evening News (16 April 2013)