February 2017: my coverage of the Manchester World Naked Bike Ride 2011 and other years is available as a manufactured-to-order DVD which is for home viewing. Price £10.
Contact me for further details.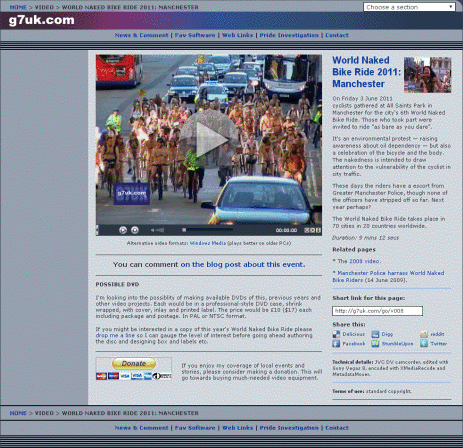 POSSIBLE DVD
I'm looking into the possiblity of making available DVDs of this, previous years and other video projects. Each would be in a professional-style DVD case, shrink wrapped, with cover, inlay and printed label. The price would be £10 ($17) each including package and postage. In PAL or NTSC format.
If you might be interested in a copy of this year's World Naked Bike Ride please drop me a line so I can gauge the level of interest before going ahead authoring the disc and designing box and labels etc.
| | | |
| --- | --- | --- |
| | | If you enjoy my coverage of local events and stories, please consider making a donation. This will go towards buying much-needed video equipment. |

World Naked Bike Ride 2011: Manchester
On Friday 3 June 2011 cyclists gathered at All Saints Park in Manchester for the city's 6th World Naked Bike Ride. Those who took part were invited to ride "as bare as you dare".
It's an environmental protest — raising awareness about oil dependency — but also a celebration of the bicycle and the body. The nakedness is intended to draw attention to the vulnerability of the cyclist in city traffic.
These days the riders have a escort from Greater Manchester Police, though none of the officers have stripped off so far. Next year perhaps?
The World Naked Bike Ride takes place in 70 cities in 20 countries worldwide.
Duration: 9 mins 12 secs
Related pages
* The 2008 video.
* Manchester Police harrass World Naked Bike Riders (14 June 2009).
Short link for this page:
Technical details: JVC DV camcorder, edited with Sony Vegas 8, encoded with XMediaRecode and MetadataMover.
Terms of use: standard copyright.