I had to go up to Longsight to get my contact lenses checked out. Five minutes after leaving the house I got caught in another one of the torrential downpours that are becoming a daily event this month. Even with a big golf brolly it was impossible to stay dry while walking, as the rain was bouncing six inches off the pavement and the drains couldn't cope with the flood.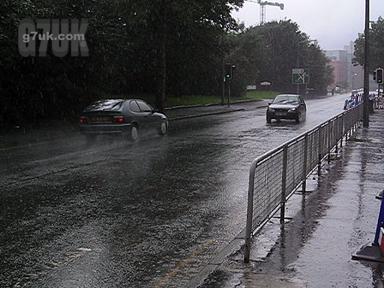 Wet feet -- ugh. Oh well, could be worse. I could be one of the many farmers who have had their crops totally ruined or I could be flooded out, as in Cornwall (external link). That's unlikely on the 8th floor though!
Very bad news at the opticians -- I have to wear spectacles until Friday (not that I'm vain ha ha). After the opticians I called into the Lidl store that opened recently along there.
The food seems just as good as that from Asda, Sainsbury's or Tesco and the prices are very low. In fact half the price on mangos, melons, peppers, tomatoes, potatoes, growing herbs and most other items. The checkout was fast. I can't quite understand the snobbery there is about these low-price stores. It's not as if going to Sainsbury's is such a great experience that it is worth paying double for.
An item in last week's Pink Paper suggested that the gayest places on earth are the supermarkets. Which could be true now that gay clubs and pubs are so mixed (straight and gay). Of course this has been true for years in cities with a large gay population.
Remember how Mary Ann Singleton met Michael Mouse at the beginning of Tales of the City? That reminds me... I must seek out the third series on DVD, as it has never been shown on TV here.
With so many gay men now supposedly into the rough 'scally' type, wouldn't it make more sense for them to shop in the Longsight Lidl or Levenshulme Netto (near the Job Centre) rather than the Didsbury Tesco?
I dropped off the shopping and went to meet L and T in the city centre, not forgetting their little daughter H. Coffee, chat and then food at Pizza Hut. Finishing off in Waterstones bookshop.
10pm, and as I got close to home I found a film crew shooting a Police drama. No doubt portraying the neighbourhood as a crime-ridden hell-hole! A neighbour asked a member of the crew what the TV show was and, with a smile, he replied: 's**t'. ITV production then? Apparently Tom Conti is in it (he appeared in the film Shirley Valentine). Not sure if that's him you can see in the video clip...