< back to earlier this day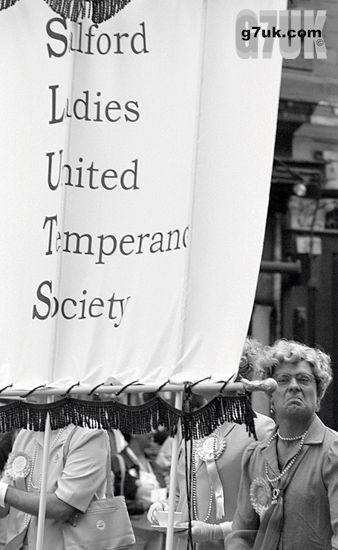 The 'Salford Ladies United Temperance Society' could be seen tut-tutting at just about everything. Years ago there would have been many ladies like this around Manchester. OK, not quite like this, as this lot were all actually men dressed up ;-)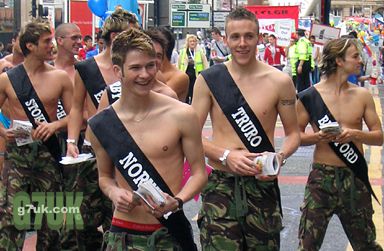 Finalists in the Mr Gay UK competition.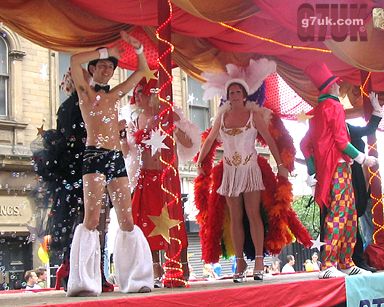 I want a bubble machine!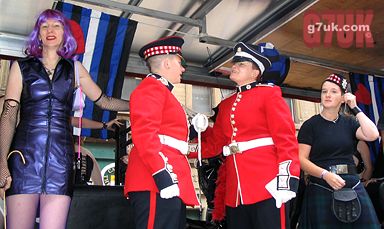 As the last part of the parade passed by, I left and took a shortcut across town to Whitworth Street, in the hope that I could catch most of it again on video.
In fact there had been a problem with the big white spikey inflatable thing at the front, so everything had been delayed. Which meant I got it all on tape.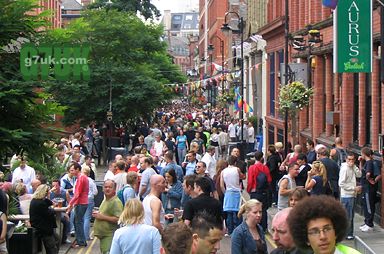 OK that's just a mere preview of my pics and video from the 2004 Manchester Gay Pride parade. I'll be putting up a full gallery soon.
Don't forget that Pride is partly to do with raising money for charity. But, if you do want to donate to the good causes, the best way is to send your money direct to the charity of your choice.
If you give to 'Operation Fundraiser' -- either by putting money in a bucket or by buying a wristband -- two-thirds of your cash actually gets spent on the cost of running this huge Pride event. Not many people seem to realise that. But it's no surprise, as the wording on some of the publicity material is 'misleading' to say the least.
So, my Pride started and finished with the parade. The Gay Village and surrounding streets have been fenced off. If you can't or won't buy a wristband, you're excluded from the gay part of the town for the whole holiday.
It's a 'gay poll-tax', to fund a massive commercial event that benefits the bars, clubs and other businesses enormously and which they and the City Council want us to pay for (in its official literature, Manchester City Council boasts that the 1999 Mardi Gras provided an 'estimated £20m boost to the economy'). The charities provide a 'figleaf of respectability' for the whole thing and actually get a tiny amount considering how much cash is involved.
I don't agree with it and don't want to be part of it, simple as that.
NIGHTMARE ON MINSHULL STREET!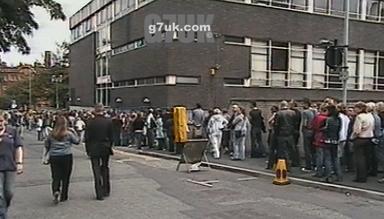 Immediately after the parade, hundreds of people were less than happy to discover they had to queue for a very long time before they could get into the Gay Village. This was so they could exchange their wristband for an entry ticket (figure that out!).
One of the lines was so long it stretched all the way from Portland Street down onto Whitworth Street and round to Sackville Street and some people reported waiting for two hours.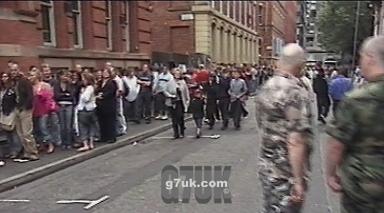 Fortunately, none of us had bought a wristband and we didn't intend to, for the reasons mentioned above. So we went for a coffee at Cafe Nero in Piccadilly Gardens and did some shopping instead.