Warning: mysqli_query(): MySQL server has gone away in /home/medlockt/domains/g7uk.com/public_html/photo-video-blog/wp-includes/wp-db.php on line 1924 Warning: mysqli_query(): Error reading result set's header in /home/medlockt/domains/g7uk.com/public_html/photo-video-blog/wp-includes/wp-db.php on line 1924 Warning: mysqli_query(): MySQL server has gone away in /home/medlockt/domains/g7uk.com/public_html/photo-video-blog/wp-includes/wp-db.php on line 1924 Warning: mysqli_query(): Error reading result set's header in /home/medlockt/domains/g7uk.com/public_html/photo-video-blog/wp-includes/wp-db.php on line 1924

Back in May I wrote about the tragic story of a 15-year-old girl who killed herself in 1971.

A news report in The Guardian on April 6th of that year describes how she had danced on Top of the Pops on four occasions and, according to her diary, spent the night with a man the newspaper describes as "a well-known disc jockey".

That girl was Claire Ufland. However, she was adopted and other reports call her by her adopted name of Claire McAlpine. She also used the stage name Samantha Claire.

It seems she died on March 30th. A month earlier her mother, Vera McAlpine, had read her diary and banned her from appearing on the show again.

I looked up details of Top of the Pops for the end of 1970 and begining of 1971 and found that Jimmy Savile presented the programme on 3 Dec, 25 Dec, 26 Dec, 14 Jan, 28 Jan, 11 Feb, and 25 Feb.

And, although Claire lived in Watford, there was a Leeds connection. She had attended auditions at Yorkshire Television and been given small parts on the children's variety programme Junior Showtime. The Guardian reported that the TV company was removing scenes of her from the show.

There's no suggestion of any wrong doing by anyone at Yorkshire Television but was its Leeds location another possible link with Jimmy Savile?

I came across this story quite by chance in January of this year. I was searching the newspaper archives for information on the history of video recording in UK television and, as tends to happen, I found something that was completely unrelated, but very interesting.

I felt that what seemed to be a forgotten story should be followed up in the light of what was becoming known. But I didn't have the resources to do anything more than write a brief piece here on my website.

But in the whirlwind of publicity that blew up as the recent ITV documentary approached, my article was linked to on a number of high profile forums and another news story from the time came to light.

On October 5th the Daily Mail published an article about Claire McAlpine. It includes some photographs of her on Top of the Pops looking every bit as you would imagine a dancer on the programme at that time.

The following day I received an email from a reporter on the Sunday Telegraph asking about the articles I had uncovered.

The Telegraph article appeared yesterday evening: Jimmy Savile's toxic legacy.

In an extraordinary twist of fate, it reveals that Claire's mother, Vera McAlpine, died last week at the age of 90. She will be buried on Wednesday.

The current whereabouts of the red-covered diary are unknown.

Although the Sunday Telegraph article suggests that the BBC didn't seem to mind that the dancers were so young, another contemporary article in The Guardian suggests that the Corporation was ready to take action following Claire McAlpine's death.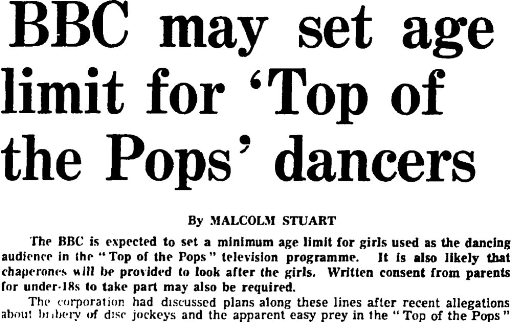 "BBC may set age limit for 'Top of the Pops' dancers" is the headline on April 5, 1971. As well as a minimum age for girls dancing, it was "likely" that chaperones would be provided to look after them and written consent from parents for under-18s to take part might be required, the article says. Did it happen?
Claire McAlpine's mother told the The Guardian that she had telephoned the BBC about the diary entries and a fortnight later was called back and told that the man had flatly denied it.
"She was told that if she wanted to take the matter further she had to get in touch with the man or his agent."
The paper reports that the official reaction at the time of the inquest was "this would seem to be a matter for the police and the Coroner's Court and the BBC has no comment to make."
Over the past week it's been reported that the BBC can find no record of complaints in its file on Jimmy Savile.
If Savile was involved in this case, which was reported in national newspapers and involved an inquest, why is there no record of it in his file at the BBC? Were details never added or were they removed at some later date?
Or is it possible that Jimmy Savile wasn't the guilty party in the Claire McAlpine case?
According to the Sunday Telegraph article:
"Jenni Bale, a BBC studio manager at the time, and who knew Savile [and Claire McAlpine], is in no doubt that the DJ abused Clair. 'I believe Clair lost her life all those years ago because of what was done to her,' she said. She contacted police last week to ask them to look at the case again."
At the time of the death Mrs Vera McAlpine told newspapers "I was very disturbed by other references in the diary, which mentioned many names. Some of the passages were so shocking that I would rather not repeat them. But the police know what they said."
I hope this won't be the end of the story and that journalists or the police will find the diary with its list of DJs and details of what happened.
UPDATES
Oct 9, 2012: The Watford Observer, which covered the story at the time, has some further information. This part is especially interesting:
"When The Watford Observer covered Claire's inquest on April 7, 1971, only a photographic copy of the last entry of her diary was produced and read. It described how the 'dreamer' could not face reality, and could not take anymore."
Oct 14, 2012: the Sunday Telegraph has published a new article today. Claire McAlpine's half-brother, Mark Ufland, told them : "Jimmy Savile was in the diary for having some sort of sexual relationship with her. As far as I know, Jimmy Savile was interviewed as a witness. My mother told me that the diary went to the police and never came back."
According to Jimmy Savile's former bodyguard, Savile claimed to have paid off the police during an earlier investigation into underage sex in Leeds back in 1958.
May 10, 2013: in his autobiography "HimOff! The Memoirs of A TV Matinee Idol" Richard Whiteley talks about Jess Yates who was Head of Childrens' TV at Yorkshire Television.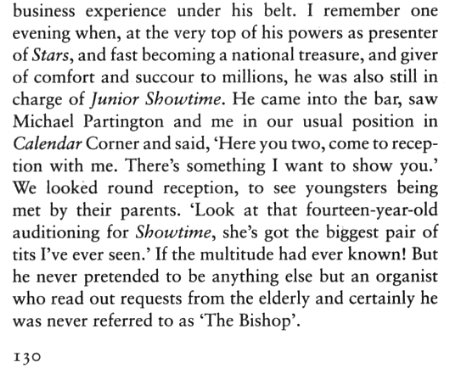 Even by the (unpleasant) standards of the time, this was an extraordinarily inappropriate thing for Jess Yates — the Head of Childrens' Television — to say to colleagues.
But it's hard to put yourself into the mindset of the time. When I worked in the all-male environment of the fire brigade in 1988 it wasn't unusual to hear firemen making lewd comments about 14 year old girls. I was gay and the age of consent for us at the time was 21 so I was bemused by it to say the least.
Jess Yates left Yorkshire Television abruptly in 1974 when the press reported that he was having a relationship with a much younger woman. The fact that he was separated from his wife at the time didn't seem to make any difference to the outcry and, apart from an appearance on New Faces, it seems he didn't work in TV again.
Was this spectacular downfall solely because an affair out of marriage didn't fit with his public image as the organ-playing presenter on the religious show Stars On Sunday? Or was Yorkshire Television glad of the opportunity to get rid of him for other reasons?
May 30, 2017: photographs dated 10 February 1970 show Jimmy Savile on Yorkshire Television's local news show "Calendar." He's dressed in a kilt and in two pictures is seen alongside a young blonde "dolly bird." She's wearing a short dress and the ubiquitous high white boots of the time. This isn't Claire McAlpine but the first impression is that she looks similar.
Savile is wearing a tie which has the Yorkshire Television logo on it. It would be hardly surprising if he had his feet under the table at Yorkshire TV in Leeds where he lived. Was he involved in arranging for Claire McAlpine to appear on "Junior Showtime" about a year later? At the time of her suicide it was reported that the TV company was editing an episode of the programme to remove her. How far in advance was it recorded? Was it after she had met Jimmy Savile on Top of the Pops?
There is no direct evidence so far. I raise these questions here to see whether anyone reading can provide some.