Just because something was illegal and two men had a kiss in a photo booth in 1953 doesn't mean they were a "closeted gay couple".
Read the article and you'll discover that it undermines the headline. One of the men, Joseph John Bertrund Belanger, was "a member of the Mattachine Society – an early instance of what today would be called an LGBT organization — in the early 1950s."
That is pretty "out of the closet" for the early 1950s I would say.

I met my longterm partner in June 1983. I was 21. He was 20 and illegal because the age of consent for gay men was 21 at the time. But we weren't in the closet.
That summer or the following one I kissed him in front of a bus full of people in the market place of the small rural village where I live now. Again that was illegal at the time. We must have looked camp as Christmas as we were dressed in cut-off denim jeans and white t-shirts, sandshoes and sports socks.
The fact it was illegal didn't mean we were "in the closet" and we didn't feel restricted or oppressed. We never had a problem with the police. Not even when the house was burgled in 1993 when no one was there. The police arrived, having been called by a neighbour, to find porn mags thrown around the bedroom. Even quite tame porn was illegal then.
Nor did we experience any homophobia in ten years. Except for one occasion from my doctor. One elderly gay friend in the 1980s used to say it had been a lot more fun before male homosexuality was legalised in 1967.
Many of the problems started around 1995 when gay life began to be publicised and greedy marketeers and gay businesses decided to welcome in everyone. But if you're a youngster you mustn't be told this truth…
Of course there have been some welcome changes such as legal protection for partners.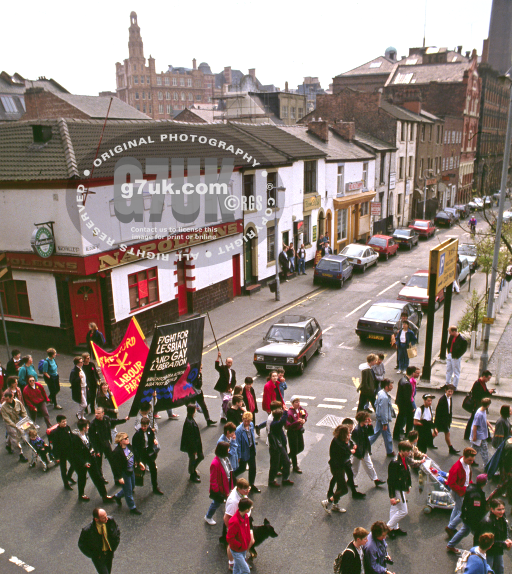 The Liberation 91 march passes across Bloom Street, Manchester, in 1991. Where are the protests about real issues (not cakes) now? Safe in those days, this street is now the joint-15th most crime-ridden in England and Wales. It's an extremely dangerous place. Yet no one does or says anything and corrupt charlatans in the media and politics tell LGBT youngsters that it's a "safe haven." There are up to 80 reported violent and sexual crimes in the gay village some months. Just one way in which gay life is worse that 30 years ago…
But trying to be "like straights" instead of embracing being a bit different and being proud of it has been a backward step. It has led to unhappiness for some.
Don't believe the black and white hype. Some things aren't better now and we weren't all miserable, oppressed and "in the closet" in the past.