You may have heard about the notorious raid on a drag ball at a temperance hall in Manchester in 1880? An article in The Guardian (Village People, 7 August 2004) refers to the incident, but it begins with the scene just over one hundred years later.
In 1988 "Canal Street in Manchester city centre was still a red-light district," writes the author. Going on to describe how police officers patrolled its "dank alleys".
"This kind of surveillance was nothing new in the area," she continues.
"In 1880, a notorious raid on a nearby temperance hall halted 'disgraceful proceedings' at which almost 50 men, half of them dressed as women, gathered 'for the purpose of inciting one another to commit abominable offences'. They were dancing the cancan to the accompaniment of a blind harmonium player."
I wondered exactly where "in the area" this "nearby" temperance hall was. So I looked up the original story…
The Observer, 26 September 1880:

"About one o'clock yesterday morning a raid was made by the Manchester City Police on a fancy dress ball which was being held at the Temperance Hall, York Street, Hulme."

The Manchester Guardian, 27 September 1880:

"Extraordinary Occurrance. Midnight raid by the Manchester Police.

"One of the strangest spectacles ever witnessed in a court of justice was presented at the Manchester City Police Court on Saturday morning when 47 men, some of them dressed in the most fantastic fashion, and eight of them in the garb of women, were brought up in custody on a charge of having assembled in a room in Hulme Place, York-street, Chester Road, for an improper purpose."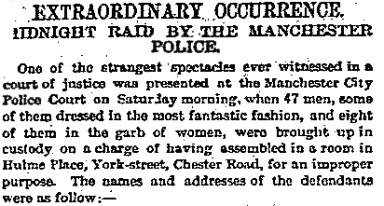 York Street stood where the A57 motorway crosses Chester Road today. As the crow flies it's 1.8km from Canal Street. That's the same as the distance between Victoria and Piccadilly railway stations, which are on opposite sides of the city centre.
So, in reality, the temperance hall wasn't near Canal Street at all. The author has used vague language to imply a phoney historical narrative about what is now called the gay village.
Probably because of this article (in an influential national newspaper) the notion that the drag ball took place just around the corner from Canal Street, or even on it, has become something of an urban myth. The writer of one Wikipedia page reached the same conclusion as everyone else and stated it as fact.
About those "dank alleys" in 1988… Where exactly? But perhaps the author means Richmond Street (seen here on Google Street View). Amazingly, we did have summers and sunshine in the 1980's just like today…
"Raids on gay clubs were rife in the late 80s," claims the article.
Although the Clone Zone store was targeted by police for selling porn, I can't think of any gay club that was raided in the late 1980s. I asked other people and the only incident we could come up with was at the Mineshaft in Rockies club in 1994.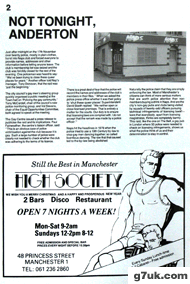 A report in Mancunian Gay magazine about a police raid on Napoleons which happened on 17 November 1984.
Leafing through a stack of copies of Mancunian Gay magazine, I found just one news report — about Napoleons being raided by twenty police officers on 17 November 1984. This incident resulted in a public meeting at the town hall (on 2 December), which was attended by approximately 100 people, and a Gay Police Monitoring Group was set up. No other raids are mentioned in the article.
Despite being out on the scene in Manchester regularly throughout the 1980's, personally I never experienced a raid and neither did my then partner. So is it accurate to suggest they were "rife"? In fact I suggest that by the middle of the 1980s, and despite homophobic Chief Constable James Anderton, the community had made it very clear that this kind of harrassment from the police wouldn't be tolerated.
Perhaps the author confuses the 1980s with the '60s and '70s? Or does it just make a better story to run down the gay community of the 1980s and suggest that a sudden change happened almost overnight?
While those who weren't around quarter of a century ago will, sadly, just accept this article as fact, many who were on the scene then will be somewhat baffled by the picture it paints.
Obviously people have their own opinions and personal life experiences. But in many respects the article is so misleading as to be a travesty of the truth. Indeed, the relentless drive to talk up the gay village "now" (2004) makes it sound more like a PR/marketing press release than a piece of journalism.
Many of those who are quoted are business-owners and others who could be said to have a vested interest in making a silk purse out of a sow's ear. Marketing Manchester gets in a few words too.
Those of us who have been around in gay Manchester for a long time will recognise the familar, vacuous hype. Whatever's happening now is always the biggest-ever and far better than anything that went before. Regardless of the truth.
The article claims that Manchester City Council backed Europride 2003. Julia Grant, former owner of the Hollywood Showbar and the organiser of GayFest in 2000 and 2001 tells a different story. She says she secured Europride for Manchester and that the City Council was unhelpful to say the least. To the extent that she considered taking Europride to Salford instead. This version of events is backed up by an article that appeared in The Independent in 2001:
"A long-running spat between the city's council and gay community over the direction of Manchester's annual Mardi Gras festival has resulted in a council declaration that Europride may not be welcome…"
Ian Scott of Taurus remembers that "back in the 1980s, there were only a couple of pubs on Canal Street."
Misleading because Canal Street wasn't on the radar then. Bloom Street was considered to be 'the' gay street, with Napoleons, Clone Zone, New York, Bloom Street Cafe, Funky Crop Shop, Gaze bookshop and the Gay Centre actually on the street at various points during the decade. Other venues — such as Thompsons Arms, High Society and La Cage — were within yards of it.
Yet more gay pubs and clubs were spread out across the city centre: Stuffed Olives and Heros near South King Street, Number One club and Manhattan not far from the town hall, Dickens on Oldham Street and Archway and Rockies were at opposite ends of Whitworth Street.
James Whale can be seen visiting Clone Zone in this nationally-broadcast item from 9 December 1988.
And it's really disgraceful for anyone to imply that people of all ages were less welcome in the 1980s, when the complete opposite is true.
As for "nobody" taking any notice of the HIV/AIDS crisis in 1988. This is also utterly untrue, as a glance at copies of Mancunian Gay magazine from the mid-1980s shows.
By 1988 many gay men in the city had reduced their sexual activity to just mutual masturbation and that level of interaction was widely accepted. Compare to the sad state of affairs now in 2011, when barebacking is commonplace, 'raw' DVDs are on sale in Clone Zone (the former owners of which were behind both the first August Bank Holiday event and the launch of The Village Charity) and it's believed that as many as one in ten gay men on the gay scene in Manchester is HIV+.
This historical revisionism is devious and dangerous. The people who profit now are terrified that youngsters might end up thinking: "hold on, that sounds better that what we're stuck with now." Worried that they'll question the way things are and why.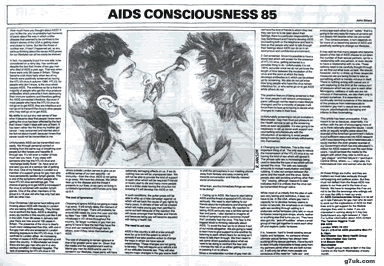 Mancunian Gay magazine, January 1985 issue.
"A place notorious for 'drinking, robbery and cruising' has been through a cultural revolution," says councillor Pat Karney in the 2004 article, again turning reality on its head. "Crime? Next to nothing," says a police sergeant.
In fact the trajectory of the gay village into a violent hell-hole has been steady since the second-half of the 1990s and it continues to date — business as usual.
Earlier this year (2011) the new police crime maps revealed that the gay village is now the worst spot for violent incidents in the whole of Manchester city centre. Those problems grew along with the promotion of Canal Street to the wider population in the 1990s. The trouble was used as an excuse to introduce tickets and fences at Mardi Gras in 1999.
My memory is that it was quite unusual to see anyone staggering drunk around gay venues in the 1980s. It all seemed quite civilised and grown-up in comparison to now. There was a unique LGBT culture in those days in terms of different clothes, music, politics and entertainment and real community spirit.
And the "Manchester Pride parade" back in 1990…
All kinds of of people are up to this and it can be hard to tell whether it's due to ignorance, a faulty memory or motivated by commercial gain and marketing purposes.
On the Trivago website 'MickSheff' writes:
"It makes me feel old to think that the first Manchester Pride was back in 1990. I remember that I was in Manchester that weekend and I lined the streets like thousands of others, more than a little curious as all the Parade March went by."
Mick is mistaken. There was a Northern Pride in Manchester in 1986.
Next Mick comes out with the kind of physically impossible crowd figure that the marketing parasites have produced in the past:
"Twenty years later and this event has gone from strength to strength, with some estimates claiming crowds in excess of 300,000 for the 2010 event…," he writes.
"It is probably fair to say that many saw its original purpose as a way to express their sexuality but these days it is much more about fund raising and there is a real carnival atmosphere."
No that isn't "fair" at all. Firstly the occasional "pride" events in Manchester in those days were in June — the month that is the anniversary of the riot at Stonewall and they were politicial and about visibility. The event on August Bank Holiday weekend was a fundraiser and bit of fun and was emphatically NOT a "pride".
The August weekend wasn't called "Pride" until 2003 when it was hijacked by Marketing Manchester — the tourist board — and was "rebranded" with no discussion with the community whatsoever.
Much more about fundraising now, when just over 11% of the income reaches good causes and the charity figure has remained relatively stagnant since 2003? Whereas back in 1990 the August weekend was entirely about fundraising. What an insult to everyone who worked to raise money in the early days.
It wasn't difficult to find out who MickSheff is. Sure enough, he seems to be another person who could be said to have a vested interest in hyping up money-making tourist events such as Manchester Pride.
Currently he's Senior Policy Adviser at the British Chambers of Commerce and formerly worked for the East of England Development Agency. He didn't reply to a message on Facebook regarding his article. I'll leave you to decide on the motives behind this "review".
Our LGBT history in Manchester is being misrepresented and distorted and often the motivation is profit.
Update: 21 July 2015
This article about the drag ball, in the Manchester Evening News, states the location as "Quay Street" in Hulme. As you can see from the screengrab of the Manchester Guardian from 1880 the location is given as Hulme Place, York Street, Chester Road. Looking at maps of the time I don't see a Quay Street around there.
Update: 26 September 2018: further historical information added to the article.