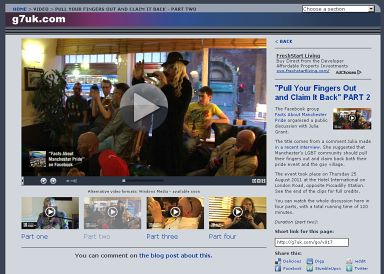 Following my recent interview with Julia Grant, she suggested that perhaps I could organise a public discussion about the future of the August Bank Holiday event (which has been known as Manchester Pride since 2004) and the gay village.
This was arranged with the help of other members of the Facebook group Facts About Manchester Pride and was called: "Pull Your Fingers Out and Claim It Back" — a reference to something that Julia said in the interview.
The discussion took place on Thursday 25 August 2011 at the Hotel International on London Road, opposite Piccadilly Station.
The first half was about past and present. A chance for people to ask follow-up questions about the interview, or anything they'd ever wanted to ask Julia Grant. The second was about the future. What changes we would like to see and how to achieve those.
You can watch the whole thing here. It's in four parts, with a total running time of 128 minutes.