Tony Blair was on Newsnight last night to promote his 'respect agenda' and answer questions from the audience. As the programme started, he seemed to have a bizarre glazed expression on his face.
At the end, Kirsty Wark said goodnight to the viewers, the credits rolled, and she completely ignored Blair, who was sitting next to her. She put down her microphone on the table and looked straight ahead at the audience. Blair looked at her, obviously expecting the usual fake end-of-programme pretend chat, but there wasn't any.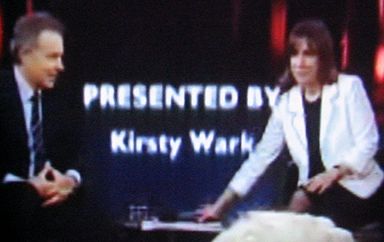 He glanced at the audience, then back to Kirsty Wark, like a puppy seeking affection. But she continued to look straight ahead. He stared at her. Then, finally, as the music came to an end, she looked down at her notes. Fade out…
I would love to put the video on here for you to see for yourselves, but the BBC probably wouldn't appreciate it.