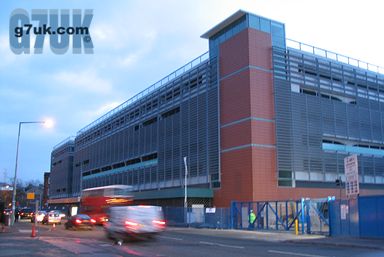 I went up to Microdirect — the computer shop — with Miss Noodle and her man. Opposite, this hideous multi-storey car-park has appeared on the corner of Upper Brook Street and Hathersage Road, as part of the ongoing development of the Manchester Royal Infirmary.
It looks like a giant electric fan-heater and feels too tall and too wide for this spot.
Twenty years ago, I lived near here on Daisy Bank Road (gotta love that name). The area used to have a 'suburban' feel. But now, multi-storey buildings line the road all the way from the city centre to Hathersage Road. It feels as if the city is expanding out here.