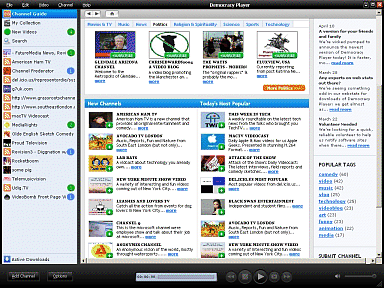 'Democracy Player is a new kind of browser for watching videos– grab webpages with video and video RSS feeds (including podcasts, video blogs, and BitTorrent feeds), and watch them full screen, one after the other. It's free and open source.'
I've tried this kind of software before. But yesterday, when I installed Democracy Player, for the first time I really saw where this is all going. I think due to the neat way it presents the channels.
More importantly, I've actually been using it to find and watch videos. The full screen video quality is smooth. There is a bit of a slow down on the PC when you are downloading several videos (hope they can tweak that).
My favourite channel so far is Media Rights. It makes me want to get out and make videos about the things I care about.
I recommend 'Fast and Reliable' about a cycle courier (with a difference). I was touched by this film. Meanwhile 'Battleground Minnesota' also made me sit up, as the star Chris (also known as 'Hip-hop activist Shakademic') looks very like another (but different) Chris from Minnesota whom I know.