One of the things you notice when you come from Manchester city centre to a small village out in the country is the birdlife.
Sure we have magpies, pigeons, starlings and even parrots where I live in Manchester. But here there is just so much more variety and so many of them: swifts, swallows, thrushes, blackbirds, finches, wrens, occasionally geese and birds of prey and, unlike some parts of Britain, there is no shortage of sparrows here. All of these can be seen from the house. Recently I posted a video of a woodpecker that was outside my window.
When I lived here fulltime I had two cats and there were many others in the neighbourhood, with inevitable consequences. Now there are no cats and the birds are thriving. But it can still be harsh at times.
Last year I was watching a beautiful thrush hopping about on the lawn. An hour later I found it dead. It had either choked to death on something (a slug pellet from one of the other gardens?) or maybe it had just happened to drop dead for some reason.
I arrived to find the swallows nesting in the passageway between the houses, as they have done for decades. I could see three or four little beaks peeking over the edge of the nest and they were a few days from fledging. One year I got this great shot of them just after they left the nest.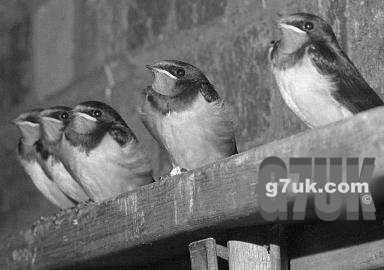 Sad to say, last week, I found all the chicks dead on the ground below. I don't know what happened. There was no sign of any damage to the nest. But we did have workmen outside the house cutting up the pavement with one of those noisy saws. I wonder if that kept the parent birds away and when they returned the baby birds were dead, so the parents threw them out of the nest?
Nature can be tough. I'm starting to feel like the vet in The League of Gentlemen!