Here's a great idea. The top of the rechargeable AA battery flips to reveal a USB plug. You just plug the battery into a spare USB port on your PC and it charges up. Nothing else needed.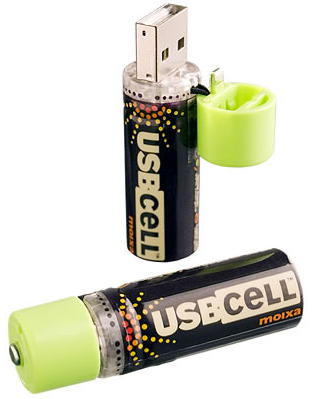 I love rechargeable batteries. If you take care of them, they can last for years. I have four NiCad batteries that I bought on Old Compton Street in 1992 (was that electrical shop called Rayners?). I think they cost about £10.
For years I used them in my flash-gun. Now I use them in my digital camera. They must have been recharged hundreds of times and still work perfectly.
Imagine the damage to the environment if I had used standard batteries all this time instead and what would the cost have been? Maybe £500?
There are two types of rechargeable AA battery. The older NiCad type and the more recent NiMH. The secret to getting long life out of Nicads is to make sure you always run them down completely before you recharge. Otherwise they develop a 'memory' effect, which means you never get a full charge from them again. Whereas the NiMH type can be 'topped up' whenever you like.
In fact, my experience so far has been that, if they are looked after, NiCads seem to survive much longer than their NiMH counterparts.
These USBCell batteries are NiMH and cost £12.99 for two. Which isn't bad if you get a few years of use out of them.