A notice has appeared on the wire fence that surrounds the land at the junction of Princess Street and Whitworth Street. This is the proposed site for a controversial eleven-storey building that, opponents say, will cast a shadow across Manchester's gay village.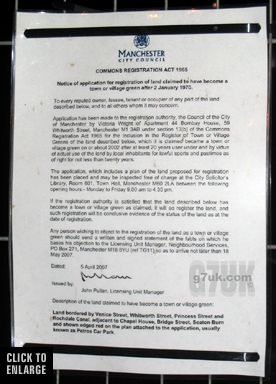 In this latest twist, it seems that someone has applied to have the area registered as a 'town or village green', as it has been used for 'lawful sports and pastimes' for more than twenty years (and no doubt plenty of unlawful ones!).
I wrote about this on 31 March and linked to some photographs of the buildings that stood on the site. Here's another photo that shows one of the buildings under demolition in 1973. So it is more than twenty years since the public began to use this land.
How nice it would be to have a park on this spot.
There is a video about the development on YouTube. Though I don't buy the argument that it is only the big chain pubs that have destroyed the gay village.